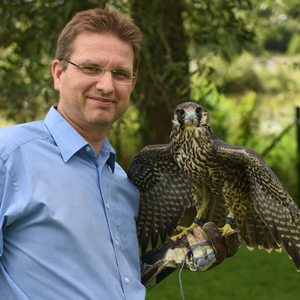 2017
Dr. Michael Lierz
Dr. Michael Lierz, DZooMed, DECZM(WPH), DECPVS is a Full Professor in Avian Medicine and the Director of the Clinic for Birds, Reptiles, Amphibians and Fish at the Justus-Liebig University of Giessen in Giessen, Germany.
Dr. Lierz earned his Doctor Veterinariae Medicinae (DVM) from the veterinary school in Hannover, Germany in 1996 and the Doctor Medicinae Veterinariae (Dr. med. vet) from the Clinic for Small Animals of the University of Berlin in 1999. Dr. Lierz is a certified specialist in avian medicine (2001), species conservation (2001), zoo and wild animals (2005), as well as microbiology (2007). Dr. Lierz became a Diplomate of the Royal College of Veterinary Surgeons in Zoological Medicine (Avian) in 2005, a Diplomate in the European College of Zoological Medicine (Wildlife Population Health) (2009), and a Diplomate of European College of Poultry Veterinary Science (2010).
Since 2009, Dr. Lierz has served as a Full Professor of avian diseases and the Director of the Clinic for Birds, Reptiles, Amphibians and Fish at the Justus-Liebig University of Giessen, Germany. Birds make up approximately 70% of the patients seen at this large clinic on an annual case. Approximately 4,500 client-owned birds are seen per year, with cases ranging from first-opinion to referrals. Additionally, the Clinic sees 600 to 800 free-ranging birds on an annual basis. Dr. Lierz has broad hospital responsibilities, including both didactic and clinical training. Dr. Lierz also supports intensive education for post-graduates to allow specialization in the field of avian medicine. In the last 2 years, six doctorate students have completed a 4-year post-graduate research project in avian medicine under his supervision. Presently, 13 doctorate, post-graduate students are under his supervision. Dr. Lierz also organizes educational workshops for pet bird owners as well as educational programs on avian medicine for government veterinarians.
Dr. Lierz has many honors and awards to his credit, including recognition for outstanding service and commitment to advancing and promoting avian medicine and stewardship in 2000, 2001, 2006, 2008, 2010, 2011, and 2012.
Michael is a member of numerous association and colleges including the Association of Avian Veterinarians, the European Association of Avian Veterinarians (EAAV), the German Specialist Group in avian and herpetological medicine, and the British Veterinary Zoological Society. Dr. Lierz currently serves as the President of the EAAV and he is a past Vice-President and board member. He is an associate editor of numerous publications including the Journal of Exotic Pet Medicine, the Journal of Avian Medicine and Surgery, Tierärztliche Praxis, and PLOS One.
Dr. Lierz has been involved in the organization of 21 scientific conferences promoting avian medicine. He was aIso instrumental in initiating the largest exotic animal medicine conference in Europe: the International Conference on Avian heRpetological and Exotic mammal medicine or ICARE in 2013. This international meeting has evolved into an ongoing main conference involving four organizations and reaching more than 700 participants.
At present, Dr. Lierz has authored or co-authored 136 peer-reviewed scientific papers, more than 30 non-peer reviewed articles, and more than 150 abstracts. He has participated in 195 scientific presentations and 115 presentations for continuing education. He has edited two books and authored 38 chapters on avian medicine. Dr. Lierz's studies, publications, and presentations have covered a wide range of topics, including avian bornavirus in psittacine birds, a novel parasite in pigeons and psittacines, Sarcocystis calchasi, and reproduction techniques in large psittacine species, including semen collection and artificial insemination, as well as endoscopic-assisted surgery and orthopedics. His working group was the first to demonstrate the fulfillment of Henle-Koch´s postulates of avian bornavirus being the cause for proventricular dilatation disease.
Dr. Lierz is politically active as a governmental consultant to install management guidelines for avian collection and bird rehabilitation centers. Dr. Lierz is also deeply involved in international conservation programs, and had or still is serving as a consultant for several programs including the sharp-tailed grouse (Tympanuchus phasianellus) (USA) and scarlet macaw (Ara macao) (Costa Rica). Dr. Lierz is also a consultant for ex-situ breeding projects of the Loro Parque Fundación and the Zoological Society for the Conservation of Species and Populations.