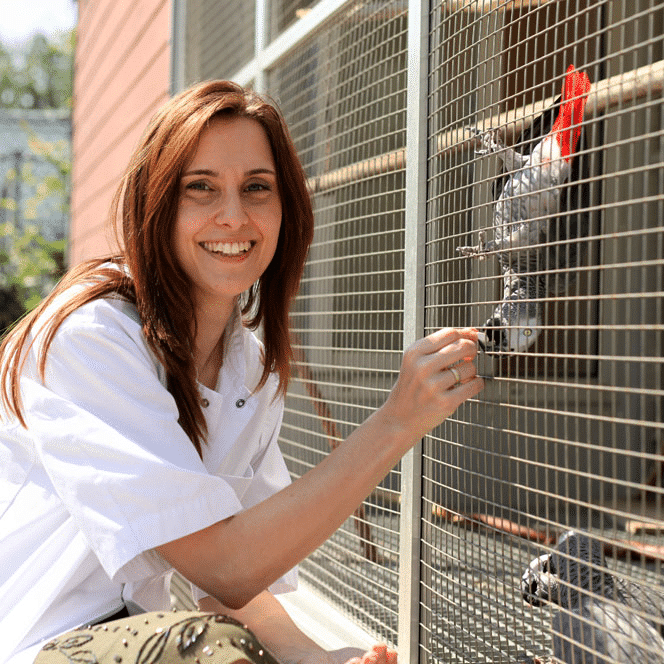 2021
Dr. Yvonne van Zeeland
Yvonne R.A. van Zeeland, DVM, MVR, PhD, Dipl. ECZM (Avian Practice, Small Mammal) has served as an Assistant Professor in the Division of Zoological Medicine at Utrecht University Department of Veterinary Medicine in Utrecht, Netherlands since 2013. Dr. van Zeeland is co-chief of the Division of Zoological Medicine, a 100% exclusive exotic animal service, which provides care for pet birds (of which the greater majority are psittacines), falconry birds, backyard poultry and other avian species from small aviaries or zoological collections. Her service also consults for several of the larger Dutch zoos…
Yvonne R.A. van Zeeland, DVM, MVR, PhD, Dipl. ECZM (Avian Practice, Small Mammal) has served as an Assistant Professor in the Division of Zoological Medicine at Utrecht University Department of Veterinary Medicine in Utrecht, Netherlands since 2013. Dr. van Zeeland is co-chief of the Division of Zoological Medicine, a 100% exclusive exotic animal service, which provides care for pet birds (of which the greater majority are psittacines), falconry birds, backyard poultry and other avian species from small aviaries or zoological collections. Her service also consults for several of the larger Dutch zoos.
Training & certification
Yvonne van Zeeland earned her Master's degree in veterinary research with a focus on "Cellular Aspects of Iron Storage in Birds" in 2002. She graduated as a Doctor of Veterinary Medicine (DVM) with merit at the Faculty of Veterinary Medicine of Utrecht University, the Netherlands in 2004. After working for a short period in a companion animal clinic in the Netherlands, she completed a 1-year rotating internship in companion animal medicine at Utrecht University, followed by a residency in avian medicine at the Division of Zoological Medicine. Yvonne became a Diplomate of the European College of Zoological Medicine (ECZM) and a European Board of Veterinary Specialisation recognized European Veterinary Specialist in Zoological Medicine (Avian medicine) in 2013. In 2014, she additionally obtained de facto recognition in the small mammal specialty of the ECZM for her efforts and accomplishments in this field.
Enrichment & behavior
Dr. van Zeeland has always shown a special interest in enrichment and parrot behavior. Yvonne became a Tinley and International Association of Animal Behavior Consultants (IAABC) certified parrot behavior consultant in 2012 and 2015 respectively. As a member of the Veterinary Behaviour Clinic team at Utrecht, she regularly sees and treats parrots with various behavior problems. Much of her work focuses on ensuring minimal stress through allowing time for acclimatization, applying gentle and calm handling techniques, and use of light sedation, dependent on the bird's personality and behavior. In addition, she routinely teaches students and clients about positive reinforcement and training of medical procedures, such as voluntarily accepting medication from a syringe.
Research
Since 2009 Dr. van Zeeland has spent a great deal of time researching feather-damaging behavior in grey parrots. After successfully defending her thesis "The feather damaging grey parrot: an analysis of its behaviour and needs", she obtained a PhD for these graduate studies in 2013. This research was part of a larger project concerning welfare in companion animals. Additional welfare-related research projects have investigated ecological determinants of abnormal behavior and breeding difficulties in birds, use of psychoactive drugs for behavior modification in birds, environmental and foraging enrichment in psittacine birds, and the importance of flight to birds. Dr. van Zeeland has also been involved in other research projects including investigations into Chlamydia psittaci and C. caviae infections in birds and guinea pigs, pharmacokinetics and pharmacodynamics of meloxicam in birds, as well as nebulization techniques in birds.
Professional organizations
Dr. van Zeeland has been a member of the Association of Avian Veterinarians (AAV) since 2006. She is a Past President of the Association (2018-2019), and she has also served as Co-Chair of the AAV International Committee (2014-2017) and AAV Conference Chair (2019-2020).  She is also the 2021 Program Chair for ExoticsCon Virtual. Yvonne has also been a member of the Royal Dutch Society for Veterinary Medicine (KNMvD) since 2004. She is a member of the KNMVD Group on Companion Animal Medicine as well as the Working Group for Avian and Exotic Animals. Dr. van Zeeland is also an active ECZM Diplomate. She served as an ECZM Examination Committee member (2014-2015), specialty lead (2015-2019), and Committee Chair from 2019 to present. Yvonne has also served as a member of the ECZM Scientific Committee since 2014.
Honors & awards
Throughout her career, Yvonne has received numerous honors, including the 2021 ECZM President's Award, the 2020 AAV Outstanding Service Award, 2019 Honors Teacher of the Year, 2017 AAV Speaker of the Year, honorary member of the veterinary study association, Archaeopteryx in 2016; the 2015 Federation of European Companion Animal Veterinary Associations Award for Best Commissioned Paper, the 2014 AAV Donald W. Zantop Emerging Leader Award, and the 2012 Junior Teacher Award.
Author & editor
Dr. van Zeeland has published more than 100 papers with a focus on zoological medicine topics, including more than 25 book chapters and more than 30 peer-reviewed articles. She served as a Guest Editor for the Veterinary Clinics of North America: Exotic Animal Practice in 2018, and she is currently co-editing the second edition of Current Therapy in Avian Medicine and Surgery. Dr. van Zeeland is also an Associate Editor for the Journal of Avian Medicine and Surgery since 2018 and an Associate Editor for the Journal of Exotic Pet Medicine since 2019. Dr. van Zeeland has also given or taught over 100 presentations, wet labs, and master classes on avian and exotic animal medicine at national and international conferences as well as post-graduate training courses for veterinarians, veterinary students, and veterinary technicians.
Bird welfare
Dr. van Zeeland serves as a consultant for numerous bird welfare organizations, including the Dutch organization, Pakara (2006-present), the parrot sanctuary, Stichting Papegaaienhulp/World of Birds (2007-present), and the private parrot rehoming organization, Hope for Wings since 2017. Since 2010 Dr. van Zeeland has also served as a consultant for LICG, a Dutch advisory organization on the keeping of companion animals. She has also served as a consultant and veterinary expert for the Dutch government and health authorities on issues pertaining to zoonotic diseases and welfare related legislative issues since 2010.