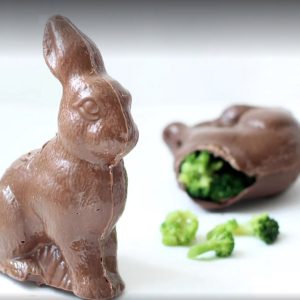 April Fool's Day is a mere hours away, are you prepared? It seems that more and more people and companies are getting in on the pranks and hoaxes that go hand-in-hand with April 1. Strange foods, bizarre news, crazy products, and more have become the norm. But have rabbits or guinea pigs ever been pawns in this mad April merriment? Yes!
Food Pranks And Hoaxes
One of the most disconcerting experiences is eating or drinking something and not having it taste as expected. The Decorated Cookie website channeled that earlier this month when it posted a harmless trick that anyone can try for April Fool's: directions for making a chocolate bunny filled with broccoli.
Unexpected taste isn't the only prank to pull. How about strange looking food? Annie's, an organic food manufacturer, is on a mission to make organic for everybunny. That's not a misspelling. Rabbits are important at Annie's. Its mascot is Bernie The Bunny. Many of its food items are rabbit-shaped. People at the company also enjoy April Fool's Day, and for the past five years the company regularly participates.
A hoax Annie's pulled for April Fool's in 2015 has now become a reality; they are making bunny butt-shaped pasta. People insisted they make the joke a real product! Of course, Fannie's has been renamed Annie's and the actual product is now called Annie's Bunny Tails with Butter & Parmesan macaroni and cheese. It still features a likeness to the backside of Bernie, though. What will their hoax be for 2017? Guess we'll have to check their website.
Working Rabbits And Guinea Pigs
We know that our rabbits and guinea pigs excel at being cute, giving us companionship, and eating and sleeping. But some April Fool's hoaxes showed us they can take on other tasks, too.
For some reason, police in New Jersey and Saskatchewan both "drafted" either a rabbit or guinea pigs to be drug sniffers. The New Jersey police even posted it on their Facebook account. The Saskatchewan guinea pigs were reported on in a news article about April Fool's Day in Saskatchewan.
Companionship and stress reduction seem to be the main jobs for pets at a library in Chicago. It included guinea pigs and rabbits in the pet collection that could be checked out. Bar codes ensure that each pet is tracked properly.
Lucy Cavendish College in the United Kingdom recruited guinea pigs to keep mow grass on the campus in 2015. Budget cuts precluded a gardener doing the task, and goats were deemed too dangerous for the job. The article about it shows additional photos.
Lucy Cavendish welcomes group of grazing guinea pigs to tackle growing problem #Lucyat50http://t.co/TlgimZUYpt pic.twitter.com/Adh9ytGvHL

— Lucy Cavendish, Camb (@LucyCavColl) April 1, 2015
Historical Hoaxes
April Fool's Day jokes have been with us for hundreds of years, so it's no surprise that at least of couple of cases of a hoax involving rabbits or guinea pigs are documented. National Geographic reported in an article that in 1726 a woman claimed to give birth to a litter of rabbits. Apparently, she was taken seriously for a while. For the full story on rabbit mother Mary Toft, check out the University of Glasgow's account.
In 1934, a Milwaukee, Wisconsin, newspaper ran a drawing of a rabbit attacking city hall. It wasn't much of a hoax because it immediately identified the drawing as an April Fool's Day joke, but it's interesting that something like that made the front page.
Just For Fun
One of the easiest ways to create a hoax these days is with the use of photo editing software. An article by The Very Best Top 10 collected some amazing mash-ups with rabbits, including a rabbit pug, a rabbit chick, a rabbit leopard, and a rabbit tiger.