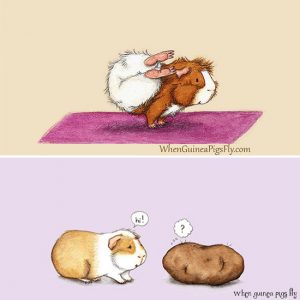 For the ultimate in cute art, check out the work of Lesley DeSantis of When Guinea Pigs Fly. Most of her subjects are guinea pigs, which are cute enough by themselves, but DeSantis manages to craft perfect situations that dial up the cuteness even more. Guinea pigs doing yoga? They're here. Guinea pigs as classical musicians, a la Bach and Beethoven? Here, too. Victorian guinea pigs, pirate guinea pigs, and jedi guinea pigs? Check, check, and check.
It's truly amazing how natural and perfect the guinea pigs look as so many different characters.
And the fun continues with humorous pieces, such as those featuring guinea pigs in animal costumes or greeting a guinea pig-shaped vegetable as a friend. There's also one showing a guinea pig as a pellet factory; tastefully done in a way that makes you laugh out loud.
The Artist Behind When Guinea Pigs Fly
The Rockport, Massachusetts, artist says on her Etsy shop that she adopted her first guinea pig in 2005.
"A skeptical trip to the animal shelter during college resulted in my finding my artistic muse in an herbivorous rodent shaped like an eggplant, and now, When Guinea Pigs Fly artwork is hanging near piggie cages, in offices, homes, and tucked in people's wallets around the world," DeSantis says.
She joined Etsy and Facebook in 2010 with When Guinea Pigs Fly. With more than 3,000 sales and more than 4,500 admirers on Etsy, plus more than 8,000 likes on Facebook, her work has many fans.
More About The Art And Books, Too!
The medium used for the artwork varies. Many are available as prints, some are on cards, and a select few are original paintings. A custom order request is also available.
In addition to the artwork, DeSantis has written and illustrated two books that are available for download as a PDF. One is a guinea pig care guide and the other shows how to draw cute guinea pigs.
Guinea pigs are not the only animals to inspire DeSantis. Otters, capybaras, and a few others pop up. Capybaras are the wild, extremely large cousin of guinea pigs.
If your day is in the dumps, do yourself a favor and look at the art of When Guinea Pigs Fly. Dare you not to smile!