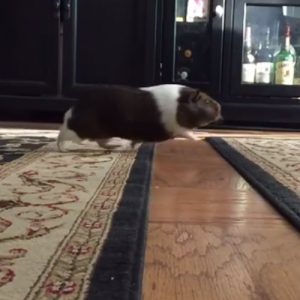 You might think a group of leaping guinea pigs living in a place called The Lava Empire are part of a video game or movie. Perhaps they are a rebels like Robin Hood, robbing leafy greens from the rich. Or maybe they are scientific explorers analyzing volcanoes. Actually, they are an adorable group of guinea pigs living a happy apartment life and playing perhaps the most extended-ever game of The Floor Is Lava. If you ever wondered if guinea pigs could jump, these guinea pigs give you your answer — in glorious slow motion!
Origins Of The Lava Empire
The current Lava Empire guinea pig herd includes Ella, Bella, Phoebe, Bianca, Dandy, and Emma. Emma just recently joined. In a recent article in the Daily Mail, Katherine Bar, who owns the guinea pigs, says she and her husband got their first guinea pigs in late 2013. They  noticed they jump between rugs to avoid touching the hardwood floor, similar to the game The Floor Is Lava. This behavior gave them the idea to create an Instagram account named The Lava Empire and feature the antics of the guinea pigs.
The Lava Empire Conquers Social Media
The Lava Empire Instagram account currently has more than 80,000 followers. Some of the videos featured have topped more than 100,000 views, and sometimes even higher. The account was featured in a Mashable article in 2016. Other active social media include Facebook, with followers topping 16,000, and YouTube, with more than 2,000 subscribers. Their fame continues, as they are featured in the March/April 2017 issue of "Guinea Pig Magazine."
Beyond The Leaping
Fans of The Lava Empire guinea pigs prove through views and likes that these guinea pigs are adorable for more than just their leaping. Videos and photos of the guinea pigs eating snacks, being groomed, having their living area cleaned, and more are also popular. Proof that guinea pigs can make almost anything fun to watch!