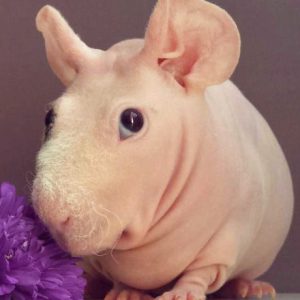 Almost two years ago, the world was introduced to Ludwik the guinea pig via Instagram. This nearly bald guinea pig and his creative owner are proof that not only is baldness beautiful, it's darn cute!
In a 2016 article from the Daily Mail, Ludwik's owner, Agata Nowacka of Poland, says she photographs the adorable, hairless guinea pig every day. At the time, his Instagram account had 57,000 followers. Today, his followers top 162,000 and his posts typically get at least 6,000 likes. He's come a long way from his first humble posts that earned a couple hundred likes.
Who Is Ludwik Guinea Pig?
Ludwik's bio states that he went from zero to hero when he was found abandoned in a pet shop and rescued by his current owner.
The phenomenon that is Ludwik guinea pig owes as much to his adorable looks as to his owner's excellent photography and never-ending creativity that puts Ludwik in different scenarios, costumes, and more. Sometimes, though, it's just Ludwik who carries the day. A recent video that caught him napping got more than 600,000 views! His videos typically get more likes than his photos, but his charisma shines through in any medium.
In November 2016, Ludwik added Facebook to his social media. A move that only added to his popularity.
In addition to being a social media star, Ludwik is a piggie with a purpose; many purposes, in fact. Sprinkled among his inspirational and humorous posts are some that support various causes, including going vegan, being against cruelty to animals, and supporting the war against cancer.
Life As A Famous Guinea Pig
Ludwik's meteoric rise to fame hasn't gone to his head. He's the same humble guinea pig who greeted people at the start of his Instagram account. A post welcoming 2017 and reflecting back on 2016 thanked his followers.