What do you do if your guinea pig is too cute for words? If you're the companion to Panda, a black and white, Coronet guinea pig, you start a Facebook account posting photos and videos of your adorable pet. The Facebook page My Guinea Pig debuted in June 2013, and it currently has more than 12,000 followers.
The Path To Fame For My Guinea Pig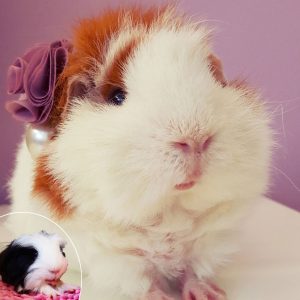 The My Guinea Pig Facebook page quickly had more than 100 followers. After less than a year, the page hit 2,000 followers and now, after four years, there are more than 12,000 people following these guinea pig updates.
The appeal is the adorable photos and cute captions posted by Panda's owner. In August 2013, Candyfloss joined Panda. These guinea pigs pose well for photos, play video games, sleep in doll beds, accessorize and dress up as movie characters, pose with props, tell stories in a series of photos, and more fun things.
Get To Know Panda And Candyfloss
Candyfloss is about 3 months younger and is a Texel breed, so her fur is curly. As a Coronet breed, Panda has long fur with a single rosette on her forehead. Her fur is frequently trimmed by her owner, because it's quite hot and humid in Hong Kong where she, Candyfloss, and their owner live. Both guinea pigs were born in 2013.
According to their owner, not many pet stores in Hong Kong sell guinea pigs. The pet store where Panda and Candyfloss were purchased said that Panda is from Australia and Candyfloss is from Europe.
Are you wondering about the names? Both are based on appearance. Panda echoes the colors of a panda bear, while the wispy fur of Candyfloss resembles cotton candy/candyfloss.
Photos are not their only claim to fame. In fact, their videos get much more attention, with several topping 30, 40, or 50 thousand views. And there is a YouTube channel, although it's not as popular as the Facebook page. Comments on Facebook photos often praise the guinea pigs and the quality of photos, and some even thank the guinea pigs for helping them start their day or relieve stress from the day.