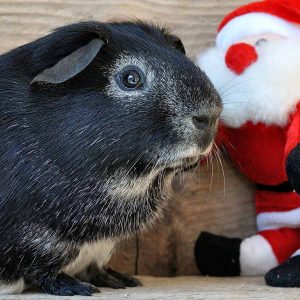 Your rabbit, guinea pig, rat, hamster, or other small mammal pet is part of your family. Yes, a furry, four-legged member, but family nonetheless. And when the holidays roll around, many people make sure their furred family members participate in some way. Whether it's with a holiday photo, special treats, fun activities, gifts, or something else, small mammal pets can join in most holiday fun as long as their safety is kept in mind.
Will rabbits, guinea pigs, or other pets realize the reason for all the festive fun? Probably not, but they'll appreciate the extra attention, treats, and gifts.
Sharing The Holiday Joy
Have a look at how some people share the holidays with their furry companions. How do you include your pet in holiday celebrations? Please tell us in the comments.
Cacahuète est impatient de déballer son cadeau. #Cacahuète #christmas #noel #sapin #cadeau #cochondinde #animal #guineapig #pet #pets #instaanimal #instaanimals #chon #instapet #instapets #bouledepoil #bouledepoils #toulouse https://t.co/eI2kFDsA95 pic.twitter.com/g45ADpX4w2

— Châtaigne&Cacahuète (@cacahuete_cie) December 21, 2017
My guinea pigs wish you a very Happy #Hanukkah #Chanukah #Chanukka or however you wish to spell it. #guineapig pic.twitter.com/VgpNCY8SX3

— Jenn Wilson (@jenndiggy) December 12, 2017
Not one to be left out… https://t.co/1TxbTYOHf6 pic.twitter.com/XGcgi39PWc

— Bunloafable (@bunloafable) December 21, 2017
Pawdorable Muff eagerly waiting for Fluffy Clause! His paws are crossed for more apple sticks! :m????

Visit us at https://t.co/PW8QzLLCBq! #chinchilla #cuteness #cutenessOVERLOAD #cuteanimaltweetoff #cuteanimals pic.twitter.com/X9AD4OGtFS

— LY Chinchillas (@LYChinchillas) December 19, 2017
Just spent my day decorating my 2 square foot sugar house. #GingerbreadHouseDay #gingerbread #Rabbit pic.twitter.com/y6PuqW5Csw

— Houdini & Cinderella (@Houdini_Cinder) December 12, 2017
もうすぐクリスマス?
゚*.。.*゚*.。.*゚*.。.*゚*.。.*゚.。.*゚*.。.*゚*.。 今年は寒く雪も降るとか❄️
ホワイトクリスマスになるかな?#ネザーランドドワーフ #うさぎ #rabbit #りまちゃん #クリスマス #サンタは来るかな https://t.co/90jq9mMKY5 pic.twitter.com/o7qJFxPW0d

— はっしー (@chisami4649) December 11, 2017
That time Shaggy looked like a Who from Whoville! #GuineaPig #TheGrinch #Christmas pic.twitter.com/bMSZnCmrg0

— Cheddar G. Pig (@CheddarGP) December 20, 2017
?Tired of Waiting! #Christmas2017 @FluffersJessica #GuineaPig #モルモット #Morumotto ? pic.twitter.com/z9sWmvTEvr

— Fluffers Jessica (@FluffersJessica) December 22, 2017
Owner Story: "My brother took his hamster to have her picture taken with Santa" pic.twitter.com/9bwfeqToSp

— Fluff Society (@FluffSociety) December 20, 2017
"Christmas is almost here" – Teddy
Only 5 days left!?❤️ #ChristmasIsComing #Christmas #guineapig #pet #cute pic.twitter.com/oTr1PRqX4n

— De Mannies (@DeMannies) December 19, 2017
Pigmas is close… cant wait to get all the gits and treats Santa is going to bring !! #guineapig #pigmas pic.twitter.com/ZBBsQGmqCb

— Annel Lozano (@kutecurles) December 13, 2017
当園のメインイベントといっても過言ではない、「テンジクネズミのおかえり橋」の様子です。ふれあい終了後に約21mの橋を帰っていきます。
今はクリスマスバージョンですよ☆ぜひ観に来てください♪#テンジクネズミ #モルモット #guineapig #智光山公園こども動物園 #クリスマス pic.twitter.com/Dca9oBRHHg

— 智光山公園こども動物園【公式】 (@ChikozanZoo) December 11, 2017
Happy Christmas FRIYAY! ?❤️? I've got the tree all decorated and I'm ready for mommy AND Santa Paws to put all of my presents under it! ☺️??? pic.twitter.com/dv14HyMVaA

— ChanelTheGuineaPig (@ChanelthePiggy) December 22, 2017