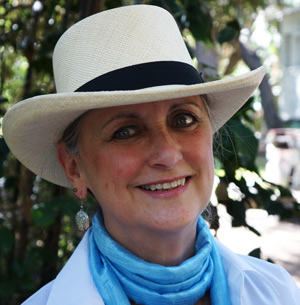 Chris Davis grew up in the rural foothills of southern California where, until she was 5, her only playmates were animals. Ever since that young age, Chris has dedicated her life to the well-being and care of animals; and, now, long into her adulthood, she still considers them to be her primary social group.
Her professional career in animal-behavior consulting and modification started when, at 12 years of age, she trained her first dog, a large adult boxer with behavior problems that had been given to her family. In spite of the difficulties she had in training him, within a couple of months, she took the boxer through obedience trials and won first prize; the only child in a field of adult trainers. Although Chris lived in rural ranch land, her animal friends were numerous and varied, and she often went for walks on dusty country roads accompanied by a pet turkey, sheep, collie and monkey.  She also had rats and guinea pigs and chickens as her most trusted and beloved friends and family.
Many years later, after life took her in many directions, including working in offices, Chris realized that she would never be happy if she wasn't working with animals. In the mid 1970s, she began working in Irvine, Calif., at Lion Country Safari, where she performed in the bird show owned by Ray Berwick, who also owned the trained Animal Actors Studio at Universal Studios.  He was also one of the top movie animal trainers of the time.
In the late 1970s, bird importation and ownership began to skyrocket because of one of Ray's most popular actors, Fred, the cockatoo on the popular "Baretta" television show. For a few years, Chris worked at both Universal Studios and Lion Country.  During that time, people asked her questions about problem behaviors their birds were exhibiting. Until then, few people in the United States had pet birds and knew little about them. In general, it was believed that birds could be trained, but were not intelligent enough to respond to behavior modification. Because of this, many pet birds that exhibited negative behaviors were badly treated or simply discarded.
Chris became the first person in the country to visit clients' homes to assess their interactions with their avian companions and to devise methods for modifying their environments and behaviors so people could have better relationships with them.  Initially, she also focused on educating the veterinary community so they could benefit from what she was learning about companion bird behavior modification. In time, she eventually visited more than 2,500 homes before finally accepting mostly telephone consultations.
Because of her early work with companion avian behavior, Dr. Irene Pepperberg, and Chris have become close and lifelong friends. Chris has spoken nationally and internationally at veterinary conferences, pet shows and bird clubs. She has contributed numerous articles, papers and chapters for numerous veterinary text books and, for more than 30 years, she has written columns for several magazines continuously, including the "Heart to Heart"column, a regular monthly contribution to Bird Talk magazine.
Chris loves all animals, from the majestic whales of Alaska to the wondrous birds that bring joy into so many homes. She enjoys helping animals and igniting the hearts and spirits of both long-term and neophyte animal lovers through sharing information and experiences that validate the profound importance of animals sharing their lives with humans.  She believes that animals are a blessing that enriches the human soul.