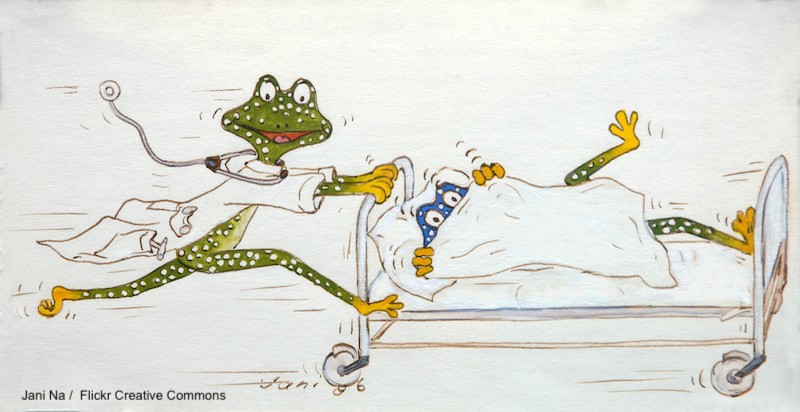 Save the Date
Save the Date for a continuing education webinar presented by Douglas Whiteside, DVM, DVSc, DACZM, DECZM (Zoo Health Management), approved for 1 hour of continuing education credit in jurisdictions that recognize RACE approval.

Date: Sunday, January 31, 2021
Time: 3 pm EST (New York)
What time is this in my time zone?

Abstract
With over 8300 species described, class Amphibia represents a significant contribution to the diversity of vertebrate life on earth. Amphibians increasingly are being kept as pets, in addition to frequently finding them in zoological and research collections. However routine wellness exams are rarely provided to most pet amphibians, with most animals only presenting to the veterinary clinic as an emergency case when they are ill. The acute onset of a clinical condition requiring emergency care in amphibians is often the result of trauma, infection, metabolic deficiency, toxicity, or a sudden inappropriate environmental change. If multiple animals are affected, each individual must be triaged based on the severity of their clinical signs and risk of deterioration. It is important for clinicians to understand how an amphibian's unique anatomy and physiology will factor into the clinical approach to emergencies. The expedient collection of a history and husbandry parameters, a systematic physical examination with appropriate selection and execution of diagnostics, and the immediate administration of emergency care will increase the likelihood of a successful outcome.
Blood collection should be considered in the diagnostic evaluation of ill amphibians but may not always be possible. While radiographs are useful for evaluating skeletal disease, respiratory disease, or the presence of a gastrointestinal obstruction (e.g. foreign body), ultrasonography should be considered a standard of care for amphibians for evaluating coelomic viscera and assessing for fluid accumulation. If fluid accumulation noted in the coelom or subcutaneous space then paracentesis followed by cytology, fluid analysis, and aerobic culture should be carried out.
Clinicians must always consider whether pain is present in debilitated amphibians. Decreased activity and feeding behavior, color changes, increased reclusive behaviors, postural changes, and spending more time in atypical locations all have been associated with pain in amphibians. Dermal irritation is often manifested by a wiping behavior with the hindlimb. Amphibians demonstrate a dose-dependent analgesic response to opioids and alpha-2 agonists, such as dexmedetomidine. Always ensure good hydration before using NSAIDS. It is essential to provide nutritional support to debilitated amphibians once dehydration has been corrected, and gavage feeding is often needed initially.
If euthanasia needs to be carried out, several pharmaceutical options are available. Pithing should be carried out with all methods of chemical euthanasia 30 minutes after the loss of reflexes and voluntary movement. Owners should be counseled on the usefulness of submitting deceased amphibians for necropsy with follow up histology and other diagnostic testing where indicated to elucidate causes of mortality. This will be of benefit to other amphibians in their collection.
Outline
Clinically relevant anatomy and physiology
Triage and emergency therapies
The clinical examination
Diagnostic testing
Analgesia
Nutritional support
Euthanasia
About the presenter
Douglas Whiteside is an Associate Professor of Conservation Medicine at the University of Calgary's Faculty of Veterinary Medicine and the Senior Staff Veterinarian at the Calgary Zoo. He is also a member of the Wildlife Health & Ecology Research Group and an Adjunct Associate Professor in Biology at the University of Calgary. Doug is the Amphibian Taxon Advisory Group veterinarian for Canada's Accredited Zoos and Aquariums and he is a member of Alberta's Amphibian and Reptile Specialist Group and the Northern Leopard Frog Recovery Team… [Learn more].
Download and share the press release.
Webinar FAQ
How do I view the live webinar event?
After registering, you will receive a confirmation email via vetinfo@lafeber.com. To access the webinar on January 31, simply select the URL link in the confirmation email.
When entering the webinar "room", you will be prompted to download webinar service software. This software can be downloaded immediately before the webinar or right now to ensure a pleasant, viewing experience.
Have you used Zoom in the past? On May 30, 2020 the webinar service enabled encryption across their platform so please update to Zoom 5.4.6 now.
Do I need special equipment to view and listen to a webinar?
All you need is a computer (or similar device) with an internet connection. Provided your computer has speakers (can you listen to music?) you will be able to view and listen to the webinar.
To enter the webinar "room", you will be prompted to download webinar service software. This software can be downloaded immediately before the webinar or right now to ensure a pleasant viewing experience.
What web browsers are recommended?
Recommended browsers include Internet Explorer 8 or greater, Mozilla Firefox 3 or greater, Google Chrome or Safari 4 or later. Adobe® Flash® Player 11.3 or later must be installed.
What if I'd like to view the course on a mobile device?
Apps for viewing the webinar are available for Apple devices and Android devices.
Will I be able to ask questions?
If you attend the live webinar event, you will be able to ask questions by typing into the Q+A field on the webinar screen. The speaker will read out and answer as many of these questions as possible. Questions not addressed during the live webinar will be answered by email at a later date, then posted on this webinar page.
What happens if I miss the live webinar?
The webinar will be recorded, and the recorded version will be available for viewing within 3 business days of the live presentation.
Additional questions or concerns?
Please contact LafeberVet at vetinfo@lafeber.com.
RACE approval
This program 20-803504 is approved by the American Association of Veterinary State Boards (AAVSB) Registry of Continuing Education (R.A.C.E.) to offer a total of 1.00 CE credits to any one veterinarian and/or 1.00 veterinary technician CE credit. This RACE approval is for Category: Medical using the delivery method of Interactive-Distance. This approval is valid in jurisdictions which recognize AAVSB RACE; however, participants are responsible for ascertaining each board's CE requirements. RACE does not "accredit" or "endorse" or "certify" any program or person, nor does RACE approval validate the content of the program.