Nutri-Meals
U.S.-based Veterinarians and veterinary hospitals: you need to be Logged in to see pricing.
For Veterinary Professionals. By Veterinary Professionals.
The Lafebervet site is for use by veterinary professionals.
It is open to licensed veterinarians, licensed veterinary technicians, licensed rehabilitators and students in these fields.
Create an account for access to the site's articles and resources.
Registration is free-of-charge.
Not a member of LafeberVet?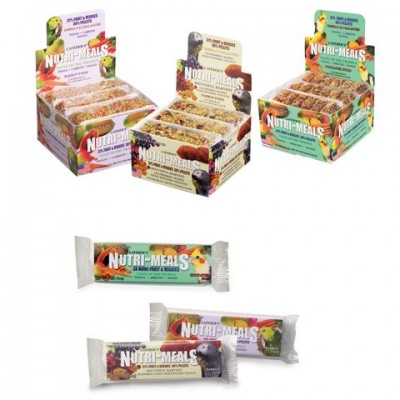 Product Description
Conveniently packaged to provide "on-the-go" nutrition, Nutri-Meals are a revolutionary way to feed medium-sized to large companion parrots. The unique bar shape fits easily in bird feet, to stimulate foot and beak play. Each bar contains 31% fruits and vegetables, 36% pellets, plus hulled seeds and nuts that have been supplemented with amino acids, vitamins, and minerals.
Recommended Use
Nutri-Meals may be fed for maintenance or dietary conversion. The rich texture and shape of a Nutri-Meal also makes it an excellent foraging treat.
Features and Benefits
Natural ingredients with added vitamins, minerals, and amino acids.
Nutritionally balanced including essential fatty acids
Omega 3:6 balanced
Naturally preserved with mixed tocopherols and citric acid
A different meal for each time of the day provides variety and enrichment
Visit Nutritional Strategies for the Companion Parrot for additional information
Flavors
Nutri-Meals are available in two exciting flavors:
Expiration Date
Look for the "Best Before" sticker on the back of the bag.
Feeding Directions
Your average 400-gram parrot (i.e. African grey parrots, some Amazons, Eclectus) can be fed one Nutri-Meal bar per meal. 1 bar contains 171.3 kcal.
Nutri-Meals feeding recommendations based on patient body weight*
Weight (grams)
Number of bars
200
0.6
400
1
600
1.2
800
1.5
1000
1.8
1200
2
*Recommendations are for caged birds assuming 50% waste. Adjustments may be required based on individual body weight and body condition scoring.
Guaranteed Analyses
| | Bountiful Harvest | Taste of the Tropics |
| --- | --- | --- |
| Crude protein (min) | 11.0% | 11.0% |
| Crude fat (min) | 5.0% | 5.0% |
| Crude fiber (max) | 6.0% | 6.0% |
| Moisture (max) | 14.0% | 19.0% |
| Metabolizable energy (kcal) | 171.3 | — |
Ingredients
All Nutri-Meals contain ground corn, canary grass seed, white proso millet, red millet, soybean meal, sugar, gelatin, propylene glycol, wheat flour, glycerine, dicalcium phosphate, ground limestone, canola oil, salt, L-methionine, choline chloride, citric acid, mixed tococpherols, vitamin A, vitamin D3, vitamin E, ascorbic acid, menadione, niacin, calcium pantothena
te, riboflavin, thiamine, pyridoxine, manganese oxide, zinc oxide, folic acid, biotin, cuprin sulfate, vitamin B12, selenium.
Bountiful Harvest also contains hulled oats, cranberries, raisins, and walnuts. Taste of the Tropics also contains cracked corn, peanuts, papaya, and mango.
Visit a specific product page for a complete ingredient list:
Quality Control
All seeds, grains, fruits, and vegetables are hand inspected. Small batches are made to insure the best quality possible.
Storage and Shelf-Life
Nutri-Meals are individually sealed for optimum freshness. Leftover bars should be placed in resealable bags to maintain freshness.