Senior Bird
U.S.-based Veterinarians and veterinary hospitals: you need to be Logged in to see pricing.
For Veterinary Professionals. By Veterinary Professionals.
The Lafebervet site is for use by veterinary professionals.
It is open to licensed veterinarians, licensed veterinary technicians, licensed rehabilitators and students in these fields.
Create an account for access to the site's articles and resources.
Registration is free-of-charge.
Not a member of LafeberVet?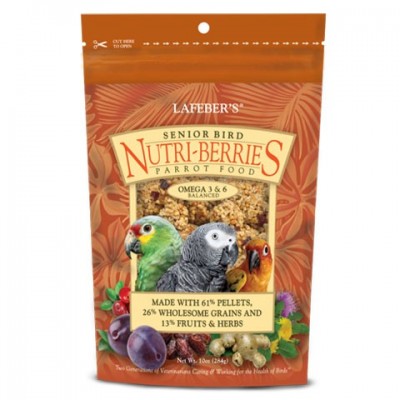 Senior Bird Nutri-Berries offer the same balanced nutrition as Classic Nutri-Berries and Gourmet Nutri-Berries, but they are formulated to provide low-calorie, scientifically enhanced nutrition for the aging bird. Senior Bird Nutri-Berries contain 61% pellets, 26% wholesome grains, and 13% fruits and herbs.
Features and Benefits
Natural ingredients enhanced with vitamins, minerals, amino acids, herbs, and supplements

Nutritionally balanced including balanced omega 3:6 fatty acids
Naturally preserved with mixed tocopherols and citric acid
Contains a Age-defying herbs and supplements:

Milk thistle (silymarin) for its many anti-inflammatory and anti-arthritic properties
Calcium-rich dandelion to support bone health and improve liver function
Ginger for its powerful anti-inflammatory properties, and
Glucosamine and chondroitin to support joint health

Senior Bird Nutri-Berries also contain age-defying fruits:

Plums provide fiber and are rich in beta-carotene, vitamins A, C, and K, as well as potassium, and fluoride
Cranberries are rich in antioxidants
Dates are iron-rich fruits containing the flavonoid polyphenolic antioxidants known as tannins, which possess anti-infective, anti-inflammatory, and anti-hemorrhagic properties

Recommended Use

Maintenance feeding of the senior bird, generally considered an individual that has reached half of its expected life span
Maintenance or supplemental feeding of the adult bird that would benefit

from a low-calorie diet rich in antioxidants, glucosamine, and/or fiber

Dietary conversion of the seed-eating senior bird
The color, rich texture, and shape of Senior Bird Nutri-Berries also makes

them an excellent foraging treat

Guaranteed Analyses

Visit a specific product page for an ingredient list: