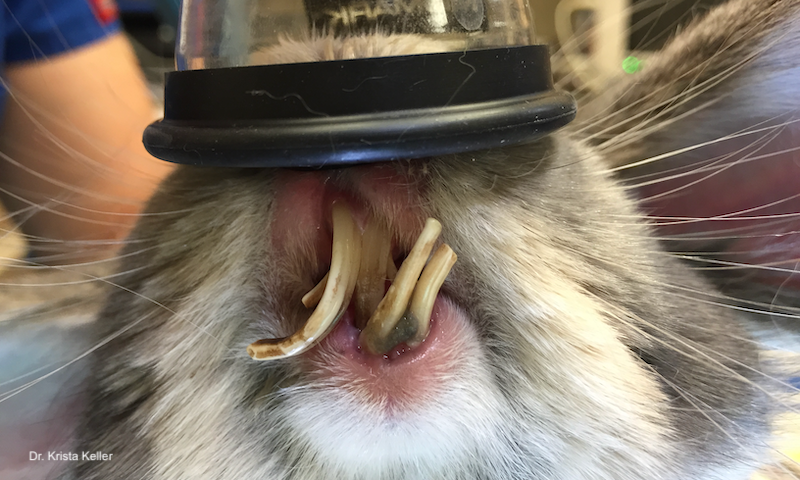 Abstract
Dental malocclusion is a common diagnosis in rabbits, guinea pigs and chinchillas and management requires a strong understanding of the normal anatomy and physiology of elodont dentition. Both congenital and acquired dental disease occur when there is a mismatch of dental growth and attrition, particularly when this is paired with malocclusion. The diagnosis of dental disease should be pursued when there are a supporting history, presenting complaint or general physical examination findings. A focused five-part oral examination that screens for apical and intraoral overgrowth can facilitate the identification of individuals suffering from dental disease, even if direct premolar and molar observation is not performed. Skull radiographs allow evaluation of apical tooth overgrowth and comorbidities including sinus and middle ear disease however when available, computed tomography can add a remarkable amount of information to the clinical case management in comparison to radiographs. Definitive or palliative therapy for dental diseases is rarely an emergency, and animals should be stabilized prior to any procedures with fluid replacement, analgesia, and nutritional support. Based upon the specific diagnosis, an occlusal adjustment, extractions, apicoectomies or therapy for abscess may be performed. Specialized equipment for the specific elodont dentition are available and should be utilized in these cases.
Outline
             

Anatomy

Tooth type: elodont hypsodont
Occlusion and occlusion angles
Dynamic temporomandibular joint

Pathogenesis of dental disease

Factors affecting dental attrition and growth
Congenital vs acquired malocclusions

Diagnosis

History
Radiographs
Computed tomography

Treatment

Stabilization
Coronal height reduction
Extractions
Options for odontogenic abscesses
Dental charts
Download the chinchilla, guinea pig, and rabbit dental records, generously shared by Dr. Keller.
| | | | | |
| --- | --- | --- | --- | --- |
| Chinchilla | | Guinea pig | | Rabbit |
| | | | | |
Also download the Rabbit, Guinea Pig, Chinchilla Husbandry Questionnaire shared by Dr. Keller. Additional small mammal history forms are available for download in Forms & Questionnaires.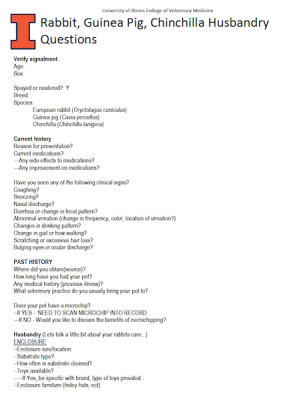 Webinar recording
Post-test
With a passing grade of 70% or higher, you will receive a continuing education certificate for 2 hours of continuing education credit in jurisdictions that recognize AAVSB R.A.C.E. approval.
Evaluation form
What did you think? Please complete the evaluation form to provide feedback or to make suggestions for future webinar topics
About the presenter
Krista Keller is an Assistant Professor at the University of Illinois at Urbana-Champaign. Dr. Keller is also an avian and exotics telemedicine specialist for Abaxis, Incorporated. Krista earned a Doctorate of Veterinary Medicine (DVM) from Ross University School of Veterinary Medicine in 2010.  She then completed an internship in companion animal medicine and surgery at Louisiana State University and a residency in zoological companion animal medicine at the University of California at Davis.. [Learn more].
RACE approval
This program 20-840748 is approved by the American Association of Veterinary State Boards (AAVSB) Registry of Approved Continuing Education (RACE) approval to offer a total of 2.00 CE credits to any one veterinarian: and/or 2.00 veterinary technician CE credit. This RACE approval is for the Medical Category using the delivery method of Non-Interactive-Distance. This approval is valid in jurisdictions which recognize AAVSB RACE; however, participants are responsible for ascertaining each board's CE requirements. RACE does not "accredit" or "endorse" or "certify" any program or person, nor does RACE approval validate the content of the progra
To cite this page:
Keller K. Rabbit and large herbivorous rodent dental disease. LafeberVet web site. March 22, 2021. Available at https://lafeber.com/vet/rabbit-and-large-herbivorous-rodent-dental-disease/