Take the survey
Please help Dr. d'Ovidio and his colleagues with an ethically-approved survey study on the use of locoregional anesthesia in exotic animal patients. Please consider participating even if you do not routinely practice locoregional anesthesia on exotic or non-conventional animal species routinely. Your input is valuable! 
Study authors include:

Nuria Quesada Vicent, DVM, MRCVS, resident-in-training ECVAA & ACVAA
Chiara Adami, DMV, DACVAA, DECVAA, RCVS Specialist in Anesthesia and Analgesia, PGCert (Vet Ed), Habil Prof, PhD
Paolo Monticelli, DMV, DECVAA
Matt Read, DVM, MVSc, DACVAA
Dario d'Ovidio, DVM, MS, SpecPACS, DECZM
Abstract
Exotic companion small mammals (e.g. rabbits, rodents, ferrets, etc.) are popular pets, and are frequently presented to veterinary practitioners for several medical reasons. As they can be easily stressed from handling, sedation and anesthesia are often required for many noninvasive clinical procedures, such as nail trimming, blood collection, imaging procedures, inspection of the oral cavity and even for physical examination in those subjects that are not acclimated to human contact. Additionally, chemical restraint is required for any painful or invasive procedure.
Much of the information regarding exotic animal anesthesia comes from studies performed in laboratory animals or is extrapolated from dogs and cats, however important differences exist in physiology, anatomy, and drug metabolism between domestic and exotic mammal species or even between exotic animals belonging to the same order. Sedation is often preferred over general anesthesia in exotic pets in order to decrease the anesthetic risk in these patients, especially in those who are sick or debilitated. In addition, sedation helps reduce anxiety and stress in both healthy and diseased patients.
Several injectable agents can be used for sedation of exotic mammals and include benzodiazepines (e.g. diazepam, midazolam, zolazepam), alpha-2-agonists (e.g. medetomidine, dexmedetomidine, xylazine, etc.), opioids (e.g. butorphanol, methadone, buprenorphine, etc.), noncompetitive n-methyl-d-aspartate (NMDA) receptor antagonists (e.g. ketamine, tiletamine, etc.), and neurosteroids (e.g. alfaxalone). In addition, inhalant agents (e.g. isoflurane, sevoflurane) can be considered for short-term immobilization as well as non-painful procedures. All of these drugs can be administered solely or better in combination to achieve synergistic effects to allow overall reduction of the dosage of each single drug as well as required inhalant agents thus decreasing risk associated with the use of heavy sedation or general anesthesia.
Pain management is crucial in several disease conditions and to prevent the postoperative complications (e.g. anorexia, reduced activity, GI disorders, etc.). Multiple analgesic therapies for exotic companion mammals are available and mainly include nonsteroidal anti-inflammatory drugs (NSAIDs) and opioids. Locoregional anesthesia and analgesia can be used as an adjunct to sedative protocols and general anesthesia to alleviate pain and to promote a multimodal approach to analgesia. Although research investigating the pharmacodynamics and pharmacokinetics of local anesthetics (e.g. lidocaine, bupivacaine, ropivacaine, etc.) is lacking in exotic animal species, these drugs are widely used in the clinical setting with dosages extrapolated from studies conducted in similar species or anecdotal reports. The use of nerve locators or ultrasound guidance is promoted to increase the success rate and decrease the incidence of iatrogenic complications.
Download a PDF version of Dr. d'Ovidio's abstract.
Outline
Definitions

Chemical versus physical restraint
Anesthesia versus sedation

Sedation

Injectable agents

Benzodiazepines
Alpha-2-agonists
Opioids
NMDA-receptor antagonists
Neurosteroids

Inhalant agents

Pain management

Systemic analgesia
Locoregional anesthesia/analgesia

Blind procedures
Nerve locator or ultrasound-guided techniques
About the presenter
Dario d'Ovidio is a Diplomate of the European College of Zoological Medicine (Small Mammals) and a EBVS European Veterinary Specialist in Small Mammal Medicine and Surgery. Dr. d'Ovidio is the Head of the Avian and Exotic Pet Service at the Clinica Veterinaria Malpensa in Samarate, Italy. He is also a referral veterinarian for exotic pets in Naples and a visiting Professor at the Universities of Naples and Parma, Italy. [Learn more].
Webinar recording
Note:  Drug doses and references shared by Dr. d'Ovidio are listed below.
Sciatic-femoral nerve block video
View this video recording of this locoregional anesthetic technique, shared by Dr. d'Ovidio.
Drug doses
Drug doses listed during Dr. d'Ovidio's presentation are summarized in this PDF.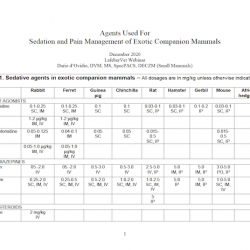 Post-test
With a passing grade of 70% or higher, you will receive a continuing education certificate for 1 hour of continuing education credit in jurisdictions that recognize AAVSB R.A.C.E. approval.
Evaluation form
What did you think? Please complete the evaluation form to provide feedback or to make suggestions for future webinar topics
Expert Q+A
Although Dr. d'Ovidio was able to answer many questions during the live event, the remaining questions were answered by email and are posted below:
INJECTABLE AGENTS
What is the dose of alfaxolone in rabbits?
Please refer to this link: https://www.alfaxan.co.uk/alfaxan/rabbits
Is alfaxan safe to use for sedation by IM route in ill (e.g. gut stasis) or geriatric rabbits?
I prefer using reversible agents in ill or geriatric rabbits (e.g. midazolam + butorphanol or buprenorphine)
What dose of atipamizole do you administer to rabbits to reverse dexmedetomidine?
10-times the dexmedetomidine dose
Editor's note:  The atipamizole dose is the same volume as the dexmedetomidine given, which works out to be 10X the dose.
Do you recommend reversing dexmedetomidine?
I routinely use atipamizole to reverse the effects of dexmedetomidine
ANALGESIA
What dose of maropitant do you recommend for rabbits?

1 mg/kg SC, IV (my apologies for saying per os during the lecture)

Ozawa SM, Hawkins MG, Drazenovich TL, Kass PH, Knych HK. Pharmacokinetics of maropitant citrate in New Zealand White rabbits (Oryctolagus cuniculus). Am J Vet Res. 2019 Oct;80(10):963-968. doi: 10.2460/ajvr.80.10.963. PMID: 31556710.
Is it known where [maropitant] works? Meaning how does it compare to metoclopramide or cisapride for motility effects? Is there an argument of one over the other?
According to the current published data "Plasma concentrations of rabbits 24 hours after SC and IV administration of maropitant citrate (1 mg/kg) were similar to those of dogs at 24 hours. Increased fecal output may suggest an effect on gastrointestinal motility. Additional pharmacodynamic and multidose studies are needed."
Unfortunately, reactions at the SC injection site occurred.
Ozawa SM, Hawkins MG, Drazenovich TL, Kass PH, Knych HK. Pharmacokinetics of maropitant citrate in New Zealand White rabbits (Oryctolagus cuniculus). Am J Vet Res. 2019 Oct;80(10):963-968. doi: 10.2460/ajvr.80.10.963. PMID: 31556710. https://pubmed.ncbi.nlm.nih.gov/31556710/
Metocopramide/cisapride are my first choice so far.
Can you comment on oral tramadol as an option for pain meds to go home?
Tramadol (at 5 mg/kg PO) is used in rabbits, rodents, ferrets, however, little information exists on its actual effectiveness.
References:  Exotic Animal Formulary, 4th ed and Allweiler SI. How to improve anesthesia and analgesia in small mammals. Vet Clin North Am Exot Anim Pract. 2016 May;19(2):361-77. doi: 10.1016/j.cvex.2016.01.012. PMID: 27131157.
Would you use only meloxicam or meloxicam + buprenorphine in e.g. tibia and fibula fracture in a hamster?
Meloxicam + buprenorphine (multimodal analgesia) is definitely better
What about using Metamizol for pain management, especially in rabbits? Can it be used effectively for example in neutering (perhaps in combinations with NSAIDs, opioids)?
As far as I know it was effective (in combination with metoclopramide and fluids) for the treatment of rabbits with gastric dilations
Schuhmann B, Cope I. Medical treatment of 145 cases of gastric dilatation in rabbits. Vet Rec. 2014 Nov 15;175(19):484. doi: 10.1136/vr.102491. Epub 2014 Jul 10. PMID: 25013085.
I was taught that small rodents need doses of 0.5-1 mg/kg for meloxicam but the slide lists 0.2-0.4 mg/kg for hamsters, gerbils, and guinea pigs. You mention the dose difference between ferrets and hamsters, gerbils and mouse, but the listed doses on the slide are almost identical. What is correct? The slide or your spoken assessment?

The dosages reported in the slide are from a review article citing an old reference: Allweiler SI. How to improve anesthesia and analgesia in small mammals. Vet Clin North Am Exot Anim Pract. 2016 May;19:361-77. doi: 10.1016/j.cvex.2016.01.012. PMID: 27131157.
Please consider the dosage >0.5 mg/kg as reported in the Exotic Animal Formulary, 4th ed
MISCELLANEOUS
I have heard of flexible endoscopes that can be connected to an iPhone for viewing. Do you have any recommendations for an affordable system for a one doctor practice?
I do like semi-rigid endoscopes, however, from otoscopes (cheap) to semi-rigid endoscopes (expensive) everything in between can work well. Just practice it.
Johnson DH. Endoscopic intubation of exotic companion mammals. Vet Clin North Am Exot Anim Pract. 2010 May;13(2):273-89. doi: 10.1016/j.cvex.2010.01.010. PMID: 20381777.
Saldanha A, Muehlbauer E, Gil EM, et al. Comparison of blind intubation and a smartphone-based endoscope-assisted intubation in rabbits. Vet Anaesth Analg. 2020 Nov;47(6):826-834. doi: 10.1016/j.vaa.2020.07.037. Epub 2020 Sep 5. PMID: 32981837.
Is piloerection indicative of catecholamines during anesthetic induction?
Yes, piloerection can be induced by catecholamines
Wenger S. Anesthesia and analgesia in rabbits and rodents. J Exotic Pet Med 21(1):7-16, 2012. doi.org/10.1053/j.jepm.2011.11.010.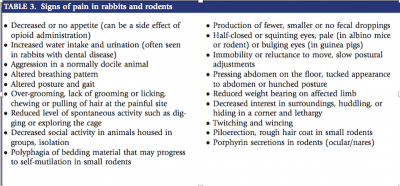 Can I ask about the use of atropine in rats?
I generally don't use atropine in rats, as some rats have serum atropine esterase(like rabbits)
What about propofol in exotic small mammals?
Editor's Note:  The LafeberVet webinar recording, "Quality Exotic Small Mammal Anesthesia" briefly touches upon the use of propofol. A few references related to propofol in exotic companion mammals are also listed below.

González-Gil A, Picazo RA, de Bruyn P, Illera JC. Corticoadrenal and cardiorespiratory responses to administration of propofol combined with dexmedetomidine or ketamine in rabbits. J Am Assoc Lab Anim Sci. 2018 May 1;57(3):278-281. PMID: 29784078; PMCID: PMC5966235.
Gil AG, Silván G, Villa A, Illera JC. Heart and respiratory rates and adrenal response to propofol or alfaxalone in rabbits. Vet Rec. 2012 Apr 28;170(17):444. doi: 10.1136/vr.100573. Epub 2012 Mar 24. PMID: 22447564.
Blake DW, Jover B, McGrath BP. Haemodynamic and heart rate reflex responses to propofol in the rabbit. Comparison with althesin. Br J Anaesth. 1988 Aug;61(2):194-9. doi: 10.1093/bja/61.2.194. PMID: 3261988.
Related content
Looking for content related to Dr. d'Ovidio's presentation on LafeberVet?
Webinar FAQ
Do I need special equipment to view and listen to a webinar?
All you need is a computer (or similar device) with an internet connection. Provided your computer has speakers (can you listen to music?) you will be able to view and listen to the webinar.
What web browsers are recommended?
Recommended browsers include Internet Explorer 8 or greater, Mozilla Firefox 3 or greater, Google Chrome or Safari 4 or later. Adobe® Flash® Player 11.3 or later must be installed.
What happens if I miss the live webinar?
The webinar will be recorded, and the recorded version will be available for viewing within 3 business days of the live presentation.
Additional questions or concerns?
Please contact LafeberVet at vetinfo@lafeber.com.
RACE approval
This program 776-44436 is approved by the American Association of Veterinary State Boards (AAVSB) Registry of Approved Continuing Education (R.A.C.E.) to offer a total of 1.00 CE credits to any one veterinarian and/or 1.00 veterinary technician CE credit. This RACE approval is for Category: Medical using the delivery method of Non-Interactive-Distance. This approval is valid in jurisdictions which recognize AAVSB RACE; however, participants are responsible for ascertaining each board's CE requirements. RACE does not "accredit" or "endorse" or "certify" any program or person, nor does RACE approval validate the content of the program.
References