It's our 50th Anniversary!
Lafeber Company was built 50 years ago by a father-son team of veterinarians with a shared love of animals and a special passion for birds. Over the last 50 years we have built an amazing community, launched award-winning bird food, and shared our love & passion for animals with so many of you. Our mission to this day still revolves around the simple premise Dr. Ted Lafeber Senior established 50 years ago, Caring & Working for the Health of Animals. From all of us at Lafeber, thank you for the last 50 years!

Company History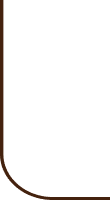 The Beginning
Dr. T.J. Lafeber developed the very first commercial, bird-food pellet, known today as our Premium Daily Pellet in the back room of his veterinary clinic in the early 1970s. He began experimenting with a pelleted food for birds. Initially, he made the pellets on a small mill in the rear of his animal hospital. Gradually, he began dispensing the food to bird owners to improve their birds' health, and the results were outstanding! In the early '80s, Dr. Lafeber developed Nutri-Start baby bird food. Shortly after that, Classic Avi-Cakes were introduced.


Expansion
In the fall of 1990, Nutri-Berries hit the pet-bird food market. Dr. T.J. Lafeber, with the help of world-renowned avian nutritionists, set out to develop a pet bird food that was not only nutritionally complete but one that offered companion birds the foraging enrichment vital to their emotional health. That iconic ball shape of the Nutri-Berries was designed with foraging in mind — a revolutionary concept 25 years ago. The Nutri-Berries food line has grown over the past 25 years from Classic Nutri-Berries to now include El Paso, Garden Veggie, Sunny Orchard and Tropical Fruit Nutri-Berries, with most varieties formulated for parrots of all sizes.


Going strong
Product innovations continued in this decade with the introduction of Pellet-Berries, Fruit Delight Avi-Cakes, Senior Bird Nutri-Berries, Tropical Fruit Gourmet Pellets, and increased options in sizes. The Pet Birds website launched, filled with articles to help people learn more about their pet birds, how to better care for them, fun things to do, fascinating facts, and more. The Small Mammals website with helpful information on rabbits, guinea pigs, and rats also launched, together with the introduction of Lafeber Company's first small mammal food. LafeberVet, an ever-growing, online library of exotic-animal medicine videos, articles, educational resources, and so much more for veterinary and wildlife rehabilitation professionals, as well as students in these fields.

Today
Today, all our products are still mixed, formed, and packaged on the Lafeber family farm in Illinois. New manufacturing machinery and the opening of a second location in Cornell helped Lafeber Company streamline its manufacturing process and meet the needs of customers even more efficiently. We are proud to serve veterinarians and customers around the world and maintain high-quality products through innovation.
Our Founders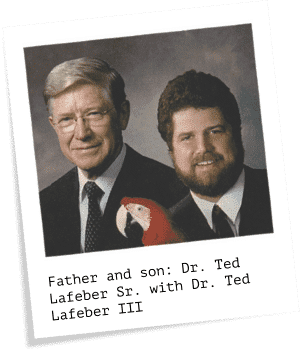 After his graduation from Iowa State University in 1949, Dr. Lafeber opened the Niles Animal Hospital. Pioneering achievements and dedication to bird care marked his career. He introduced intramuscular injections, blood panels, and gavage feeding to save birds' lives. To help solve the numerous nutritional problems seen in birds, he developed and produced the first pelleted, companion bird diet, which led to his founding of Lafeber Company in 1973.
Dr. Ted Lafeber III followed in his father's footsteps at a young age, working at his father's animal hospital. In 1988, he earned his Doctor of Veterinary Medicine from Iowa State University. In early 1990, Dr. Lafeber became President of Lafeber Company and Dr. Lafeber Sr. became CEO. In 2004, Dr. Lafeber III received the prestigious Outstanding Service Award from the Association of Avian Veterinarians (AAV) in recognition of his commitment to the well-being of birds. In 2007, he received the President's Award from AAV in 2007 in recognition of his continued dedication to avian health and welfare. Today, he continues to maintain the tradition of combining innovative and high-quality products at Lafeber Company.
Celebrate with us
Join us throughout the year as we celebrate 50 years of quality bird food! Follow us on Instagram for special giveaways, expert advice on feeding and taking care of your bird, a reflection on the last 50 years, and so much more. Make sure to follow @nutriberries @LafeberNutriBerries and use the hashtag #HBDLafeber