Lafeber Small Mammal Pets
Welcome to the world of rabbits, guinea pigs, and small mammal pets! Rabbits and guinea pigs are two of the more popular small mammal pets, but you already know that if you have one of these precious souls. Lafeber Company wants you and your furry companions to enjoy the best life possible together, so we've brought together information to help you do just that. For guinea pigs and rabbits, as with many pets, the challenge is to take care of both the physical needs like food and shelter, and also mental needs, which means preventing boredom and encouraging engagement. We offer tips about food, treats, playtime, health, behavior, and much more. Sit down and browse awhile to check it out. And keep in mind that enrichment like the nutritious foraging prompted by Lafeber's® Hey!Berries™ makes rabbits and guinea pigs smile! OK, maybe they don't actually smile, but they probably would if they could.
Editor's Choice
The Dutch rabbit breed is small, easygoing, hardy, and sports a distinctive look. All factors that add to the breed's enormous popularity. Learn more about the Dutch rabbit!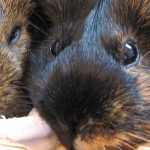 Guinea pigs don't have a tail but they do have large ears, four toes on their front feet and three on their back. Following are 12 more guinea pig facts.
Rabbits, Guinea Pigs, & Other Herbivores Love Hey!Berries