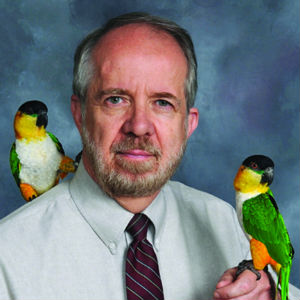 2012
Dr. James Carpenter
Dr. James Carpenter is a Professor and service chief of Exotic, Wildlife and Zoo Animal Medicine at Kansas State University College of Veterinary Medicine.
Dr. Carpenter completed his bachelor's degree in wildlife conservation at Cornell University before earning a Doctorate of Veterinary Medicine and a Master's degree in wildlife ecology from Oklahoma State University. Dr. Carpenter is a Diplomate of the American College of Zoological Medicine, and he has been a clinical and research veterinarian for 36 years in the field of avian, exotic animal, wildlife, and zoo animal medicine.
Dr. Carpenter headed the U.S. Fish and Wildlife Endangered Species Propagation Program at the Patuxent Wildlife Research Center in Maryland for 15 years. Since joining Kansas State University in 1990, he has assisted in developing an internationally recognized training program in zoological medicine. Dr. Carpenter has trained 34 interns and residents while inspiring and motivating countless veterinary medical students.
Dr. Carpenter is the author of numerous scientific papers on the medical care and captive management of special species. His research efforts have focused on pharmacokinetics as well as parasites and diseases of exotic animals.
Dr. Carpenter is the editor of the Exotic Animal Formulary and co-editor of Ferrets, Rabbits and Rodents: Clinical Medicine and Surgery or "The Pink Book". Dr. Carpenter has been the Editor of the Journal of Zoo and Wildlife Medicine (1987-1992) and on the Wildlife Scientific Advisory Board of the Morris Animal Foundation (1998-2001; Chair, 2000-2001).
Dr. Carpenter has served as President (2006-2007) and member of the Board of Directors (2005-2008) of the Association of Avian Veterinarians, President of the American Association of Zoo Veterinarians (AAZV) (1998-1999), and President of the American College of Zoological Medicine (2008-2009). He was named Exotic DVM of the Year in 2000, and he also received the Emil Dolensek Award (AAZV, 2004), for exceptional contributions to the conservation, care, and understanding of zoo and free-ranging wildlife. Dr. Carpenter was also awarded the Edwin J. Frick Professorship in Veterinary Medicine in 2002. In 2009, he was named an Alumni of the Year by Oklahoma State University College of Veterinary Medicine. Dr. Carpenter is currently the Editor-in-Chief of the Journal of Avian Medicine and Surgery (1994-present) and he serves on the Editorial Board of the Journal of Exotic Pet Medicine.