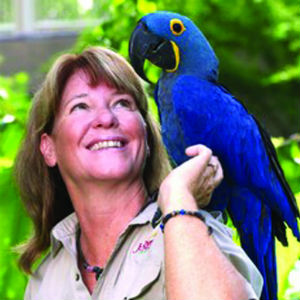 2013
Dr. Susan Clubb
Dr. Susan Clubb is the owner of Rainforest Clinic for Birds & Exotics and Hurricane Aviaries in Loxahatchee, Florida. Dr. Clubb is a Diplomate of the American Board of Veterinary Practitioners (Avian). Dr. Clubb also serves as an associate adjunct professor at the University of Florida and a staff veterinarian for Jungle Island in Miami, where she has worked since 1988. She also consults for a variety of local and international preserves, rehabilitation and rescue centers, and zoological parks. Dr. Clubb has consulted for Kaytee Products, Inc. since 2003, and she also serves as a Board member of the Kaytee Avian Foundation. Dr. Clubb has authored or coauthored over 70 articles and 25 books on avian and exotic animal medicine. She has also presented at a variety of national and international meetings.
Dr. Clubb earned a Doctorate of Veterinary Medicine from Auburn University in 1978. She began her veterinary career with a large animal importation company, where she worked for over 10 years. This work led her to spearhead the drive for changes in USDA regulations so that birds can now be vaccinated during quarantine.
Dr. Clubb's next job as staff veterinarian for the Avicultural Breeding & Research Center from 1989 to 1992 as well as co-authorship of Psittacine Aviculture: Perspectives, Techniques, and Research cemented her reputation as a leader in the field. She has served on a variety of parrot recovery programs, and she has also been an active American Federation of Aviculture member, serving as research committee Chair from 1980 to 1991.
Dr. Clubb has been a member of the Association of Avian Veterinarians (AAV) member since its inception: Director (1980-1981), Vice President (1981-1982), President (1982-1983), and Secretary (1985-1986). Dr. Clubb also served as the AAV representative to the Cooperative Working Group on Bird Trade. Convened by the World Wildlife Fund, this group's work led to the Wild Bird Conservation Act of 1992. Dr. Clubb also served as consulting veterinarian and seminar instructor for the Pet Industry Joint Advisory Council in Washington D.C. (1992 to 2000). She was called to testify before congress regarding animal legislation in 1991 and 1995. Dr. Clubb also served as Chair to several AAV committees as well as Delegate to the American Veterinary Medical Association House of Delegates from 1988 to 2000. She continues to serve as an alternate delegate. In recognition of her many contributions to the organization, Dr. Clubb received the AAV President's Award in 2004 and 2006.