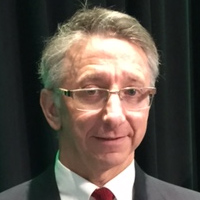 2016
Dr. Gregory Rich
Dr. Gregory Rich is the owner of the Avian & Exotic Animal Hospital of Louisiana in Metairie, Louisiana. Dr. Rich earned Bachelor of Science degrees in Environmental Health in 1977 and Medical Technology in 1980 from Louisiana State University. Dr. Rich also earned his Doctorate of Veterinary Medicine from Louisiana State University School of Veterinary Medicine in 1985. His work with avian species began in his fourth year during a preceptorship at Busch Gardens in Tampa, Florida under the tutelage of Dr. John Olsen.
After 8 years of seeing exotic animals in a multi-doctor hospital, Dr. Rich founded The West Esplanade Veterinary Clinic and Bird Hospital. Since 1993, Greg has owned and operated the only private veterinary practice in the state of Louisiana limited to the care of avian and exotic animals. Today, his practice, the Avian & Exotic Animal Hospital of Louisiana, sees 20-30 patients a day with a 55% caseload in avian species. One of Greg's most prized and proud traditions is the maintenance of a 24-hour emergency service:
"I have personally seen and treated after-hours emergency cases for the past 30 years, 24/7. It is my firm belief that if a veterinarian is going to treat avian patients during regular office hours, he or she must be willing to see emergencies or make certain the local emergency facility is clinically competent and appropriately staffed to properly and efficiently treat and house the avian emergency patient…I proudly handle emergency calls for the Greater New Orleans Metropolitan and Mississippi Gulf Coast areas. Other than my hospital, Louisiana State University School of Veterinary Medicine is the only other resource for after-hours avian emergency care in these areas."
Dr. Rich is also an active advocate for the care and rehabilitation of injured and orphaned wildlife. He donates time, services and materials to help wildlife, seeing about 5-7 wildlife cases per day as a pro bono service to his community. His hospital works closely with the LSU Wildlife Hospital and the Audubon Zoo to care for injured and orphaned birds and small mammals, before transferring them to their facilities for continued care and rehabilitation.
From 1989 through 2005, Dr. Rich was the founder and coordinator for the Mardi Gras Avicultural Conference. This program brought top veterinary and avicultural educators to New Orleans to provide medical, avicultural, and/or nutritional information to breeders, pet bird owners, and bird club members in the South. Greg was also a founding member of the Louisiana Avicultural Society, serving on its Board of Directors from 1995 to 2007, when the organization dissolved following Hurricane Katrina.
Hurricane Katrina struck in 2005, destroying Dr. Rich's veterinary practice. Despite suffering this massive personal loss, Greg's first action in the immediate aftermath was to help with the hundreds of birds at 911 Parrot Rescue, providing veterinary care as well as organizational skills and medical supplies. During this difficult time, Dr. Rich also volunteered his time and expertise at Louisiana State University School of Veterinary Medicine (LSU SVM) from October 2005 to February 2006:
"I will always be grateful to LSU SVM for the opportunity to assist Dr. Tully and Dr. Mitchell with the 4th year students' Exotic Clinical rotation. Since my own practice was physically destroyed and my personal future was uncertain, this venue enabled me to share my experience and clinical skills with the students as well as treat my displaced patients who clearly needed medical care in this time of great need and few resources."
In 2010, Dr. Rich enlisted with the Oiled Wildlife Response Team in the aftermath of the British Petroleum Deepwater Horizon oil spill disaster. He joined the Louisiana State Animal Response Team, and worked side by side with members of the Tri-State Bird Rescue and Research Team and the International Bird Rescue and Research Center Team.
Dr. Rich has personally conducted and supervised fourth year veterinary students every year for the last 25 years. Vividly recalling the financial and logistical challenges he encountered as a preceptor, Greg has enthusiastically shared not only his knowledge and experience, but also his home and his wife's southern cooking with veterinary preceptors or externs since 1987. For the last 2 years, he has also led a "Hands-On Day" of Exotic Pet Basic Procedures at his hospital for the LSU Wildlife/Avian/ Zoological/Exotic Medicine (WAZEM) club. Additionally, Dr. Rich conducts a clinical teaching program for the Delgado Veterinary Technology Program, and for the last 5 years, he has also conducted an in-house 'Meet the Exotic Pets' program for the Louisiana SPCA Care Cadets. Fifteen to twenty children visit his Hospital for an afternoon of education and hands-on learning about birds, rabbits, ferrets, and reptiles.
Somehow Dr. Rich also finds time to contribute publications and additionally, for decades he has presented at local, regional and national bird clubs and associations on the importance of preventative health care, avian nutrition, and disease diagnosis in the aviary. For the last 10 years, Dr. Rich and his associate, Dr. Leslie Pence, have also volunteered as the on-site veterinary team for the Louisiana Bird Fair and Sale. Dr. Rich is a member of numerous national and regional veterinary medical associations. He has also served on the Southwest Veterinary Symposium Continuing Education Committee for Non-Traditional Pets since 2011. In 2015-2016 he is Committee Chairperson.
Dr. Rich has received numerous accolades including the 2006 Louisiana State University School of Veterinary Medicine Outstanding Alumnus Award, the 2006 Association of Avian Veterinarians Service Award, and the 2011 Oxbow Exotic Mammal Health Award. Greg was also named a New Orleans City Business Health Care Hero in both 2010 and 2013. Greg writes:
"To my clients, I am the Other Family Doctor. I will always strive to do better, to learn more and reach more pet owners. I will never rest on my laurels."