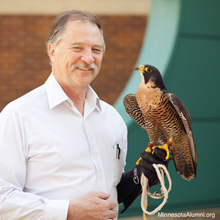 2015
Dr. Patrick Redig
Dr. Patrick Redig is a Professor in the Department of Veterinary Clinical Sciences at the University of Minnesota College of Veterinary Medicine. He is also the Founder and Director Emeritus of The Raptor Center at the University. Dr. Redig earned his Bachelor of Science degree from St. Cloud State University and his Doctorate of Veterinary Medicine from the University of Minnesota. He also completed a PhD in physiology at the University of Minnesota.
In his letter to the Award Selection committee Dr. Redig writes:
I've loved birds all my life and had visions as a young child of somehow being involved in the care and protection of birds, especially the raptors.  By turns of good fortune, hard work, and persistence, that vision was realized in the founding of The Raptor Center, an undertaking I launched immediately upon graduating from The College of Veterinary Medicine in 1974.

The Center has flourished for over 40 years as a non-profit organization within the College of Veterinary Medicine where it has grown to provide state-of-the-art medical care for raptors, a place for conducting research and continuing education about avian medicine, a place for experiential learning opportunities for the next generation(s) of veterinarians, and a means for public education about birds and their environment and our relationships with them.
Since the 1970s, Dr. Redig has contributed to the growing field of avian medicine through innovation in a host of bird-related concerns, from housing and feeding to anesthesia, radiology, orthopedic surgery, endoscopy as well as our understanding of key infectious diseases, especially aspergillosis. He has developed and disseminated well-proven methodologies in the medical and surgical management of raptors. Dr. Redig served as the head clinician/surgeon at The Raptor Center from 1974 to 2010. Since 2010, he serves as Clinical Consultant to The Raptor Center.
Dr. Redig's honors to date are many and varied and include (but are not limited to):  North American Falconers Association, Lifetime Membership Award (2009), Eagle Conservation Alliance, Lifetime Achievement Award (2009), Minnesota Veterinary Medical Association, Outstanding Faculty Member (2008), Dean's Circle Lifetime Achievement Award (2007), Association of Avian Veterinarians, Lifetime Conservation Award (2003), American Bald Eagle Foundation, National Meritorious Service Award (2000), Raptor Research Foundation, Tom Cade Award (for leadership and accomplishment in restoration of the peregrine falcon to the Midwest, 1995), American Society for the Prevention of Cruelty to Animals, Director's Award for Humane Excellence (1984), and U.S. Fish and Wildlife Service, Lake Region, Silver Eagle Award (1976).