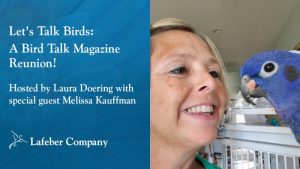 Webinar: Let's Talk Birds: A Bird Talk Magazine Reunion!
Date: Friday, November 6, 2020
Time: 12 pm PST (double-check your local time with this time zone converter)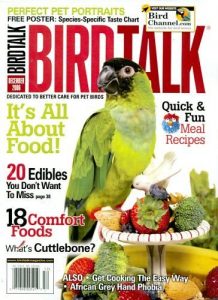 Join us for a free, interactive webinar with the former editors of Bird Talk Magazine! Here's your chance to go behind-the-scenes of the iconic magazine dedicated to the better care of pet birds. Our special guest Melissa Kauffman and host Laura Doering will talk about how Bird Talk's monthly issues came together and the tears shed when it ceased publication. For three decades, Bird Talk magazine served the pet bird community with exclusive expert-written articles, gave the low-down on the latest bird products and it offered an outlet for bird lovers to bond with other avian enthusiasts. Melissa Kauffman was a big part of staying true to the magazine's motto of Dedicated To Better Care For Pet Birds. She was also mentor to webinar host Laura Doering, who had big shoes to fill when she took over as editor.
Missed our webinar? No problem! You can access the webinar in its entirety here: