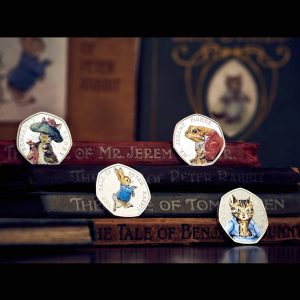 In 2016, The Royal Mint in Britain honored the anniversary of Beatrix Potter's 150th birthday with a series of coins featuring herself and characters from her classic children's stories. Five different 50 pence coins were released that year: Beatrix Potter, Peter Rabbit, Jemima Puddle-Duck, Mrs. Tiggy-Winkle, and Squirrel Nutkin. The Royal Mint might or might not have guessed that the coins would create a virtual frenzy for people wanting to own them. The Royal Mint confirmed in January 2017 that the Peter Rabbit Silver Proof 50 pence coin was voted the favorite design of 2016.
New Beatrix Potter Coins For 2017
This year, the chaos continues, as The Royal Mint announced on April 3, 2017, that four more Beatrix Potter character coins are being released this year: Peter Rabbit, Mr. Jeremy Fisher, Tom Kitten, and Benjamin Bunny. The uncirculated version of the Peter Rabbit coin was released this week. The uncirculated versions of the other coins get released in June, August, and September, respectively. No date is set yet for release of the coins into circulation.
New on the shelves today: the 2017 #PeterRabbit Silver Proof 50p (we also have the Brilliant Uncirculated #coins too). pic.twitter.com/xo2iBYiVG8

— Visit Royal Mint (@RoyalMintExp) April 3, 2017
A little more than two hours after the announcement, a post on The Royal Mint's Facebook page and Twitter apologized for The Royal Mint's website experiencing a technical glitch and being unable to take any new orders. About three hours later, another post stated that the popularity of the newest Peter Rabbit Silver Proof coin made it fully reserved and orders were no longer being taken that day. The next morning, a post stated that the Peter Rabbit coin was no longer available on The Royal Mint website.
Coin Frustration
Based on comments made on the various posts, many people were upset that they waited hours trying to order the coins and failed. With all that's happening, it might be best to check The Royal Mint website shop for availability. When you order the Peter Rabbit coin, you can check a box to get the other three coins in the future, but you must do it before you finalize the Peter Rabbit coin order.
A commemorative version of the coins comes in color and is limited to 30,000. Although not legal tender, their value is in being collectible. The Peter Rabbit commemorative colored coin is already sold out at The Royal Mint.