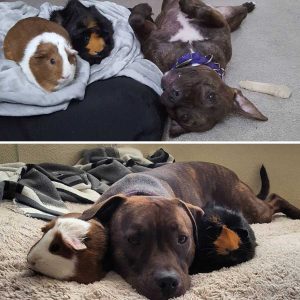 Do dogs and guinea pigs get along? Well, they can certainly live in the same home with proper precautions. But should they interact? The answer to that question is usually no. But the Instagram account PiggiesAndAPitty is showing that with very special individuals a beautiful bond between species is possible. In this case, two guinea pigs and a Pit Bull.
The Dog And Guinea Pigs
Moki is the Pit Bull. She joined the family after the guinea pigs arrived. The guinea pigs are Frida and Pandora. Frida is black and brown and seems to be at least part Abyssinian. Pandora is brown and white and seems to be the American breed. Frida just turned 2 in February.
As a youngster, more than a year ago, Moki must have learned to accept the guinea pigs. The mother of the three frequently refers to them all as sisters. One Instagrammer commented on a post that he or she couldn't get over how calm her piggies and doggie are around one another. Moki, Frida, and Pandora's mother answered, "I know, me too! I've never had an animal that's as sweet as Moki."
Life With The Pit Bull And Guinea Pigs
The life of these three companions/sisters involves sleeping, cuddling, and Moki offering her toys to the guinea pigs, who completely ignore them. The guinea pigs also sometimes complain about odors that might or might not be emanating from Moki. Occasional surprises happen, such as a strange mask arriving or the sisters having to take awkward family photos or videos. There are also guest appearances by Lobo, a Chihuahua owned by the niece of the sister's mother.
Safety First For Guinea Pigs And Dogs
The bond between these guinea pigs and their Pit Bull friend is unique. Their story is too sweet not to share. Think twice, however, if you also share your life with a dog and guinea pigs and hope to recreate what you see at PiggiesAndAPitty. Their magical bond has everything to do with the individual pet's personalities, the introduction between them, the life stages they were at when introduced, and likely many other factors. Dogs and guinea pigs usually shouldn't be permitted to interact, especially dogs bred for hunting. Even dogs that seem to enjoy guinea pig company need supervision. They might not know their own strength and could accidentally cause injury.