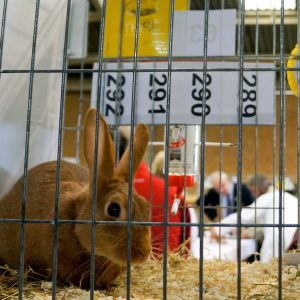 Whether you want to show off your rabbit or guinea pig, or you just want to expand your small companion's horizons, consider attending a small animal event. If you're wondering what that is, you're in for a fun surprise. A small animal event is a gathering of enthusiasts to celebrate, learn, and share stories about their amazing furry friends. Bunnyfests, agility competitions, Hoppy Hours, breed shows and pignics are all among the types of events you can attend, and most of these encourage you to bring your healthy little companions to share in the fun.
Tips For Attending A Rabbit Or Guinea Pig Event
If you do hope to bring your furry friend to an event, do so only if you believe your pal's personality suits it. For example, not all rabbits are cut out to do agility and not all guinea pigs enjoy crowds or the outdoors that are part of a pignic. If you have any doubts about your pal's reaction to an event, contact the organizer to discuss your concerns.
Follow these guidelines for a successful outing:
• Always call ahead to confirm the date and time of an event.
• Find out the rules to any event, including whether or not you can bring along your fuzzy pal, age limits, and if pets must be spayed/neutered.
• Never attend an event with a pet who has parasites, a pet who is sick or who you even suspect is sick.
• Be prepared to have fun!
Resources For Finding A Rabbit Or Guinea Pig Event
How do you find these events? Check out local animal shelters, rescues, and clubs that focus on your pet's species. Do an internet search for the type of event you hope to attend: rabbit events, rabbit hoppy hour, rabbit agility, rabbit convention, rabbit breed show, guinea pig events, guinea pig pignic, guinea pig breed show, guinea pig agility, etc. A small fee could be involved. A bonus to attending events put on by rescue organizations is that these are usually fundraisers that benefit guinea pigs or rabbits in need. You might also find a new friend to add to your family.
The list below includes some organizations that currently have events scheduled or had some in the past. This is strictly informational as a way to get you started on your search for an event in your area; inclusion on this list does not constitute an endorsement. For some of the general pet expos across the country, see links at the bottom. If you have guinea pig or rabbit events and you would like included, please fill out the form at the bottom so we can include it.