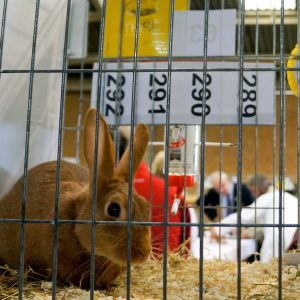 Whether you want to show off your rabbit or guinea pig, or you just want to expand your small companion's horizons, consider attending a small animal event. If you're wondering what that is, you're in for a fun surprise. A small animal event is a gathering of enthusiasts to celebrate, learn, and share stories about their amazing furry friends. Bunnyfests, agility competitions, Hoppy Hours, breed shows and pignics are all among the types of events you can attend, and most of these encourage you to bring your healthy little companions to share in the fun.
Tips For Attending A Rabbit Or Guinea Pig Event
If you do hope to bring your furry friend to an event, do so only if you believe your pal's personality suits it. For example, not all rabbits are cut out to do agility and not all guinea pigs enjoy crowds or the outdoors that are part of a pignic. If you have any doubts about your pal's reaction to an event, contact the organizer to discuss your concerns.
Follow these guidelines for a successful outing:
• Always call ahead to confirm the date and time of an event.
• Find out the rules to any event, including whether or not you can bring along your fuzzy pal, age limits, and if pets must be spayed/neutered.
• Never attend an event with a pet who has parasites, a pet who is sick or who you even suspect is sick.
• Be prepared to have fun!
Resources For Finding A Rabbit Or Guinea Pig Event
How do you find these events? Check out local animal shelters, rescues, and clubs that focus on your pet's species. Do an internet search for the type of event you hope to attend: rabbit events, rabbit hoppy hour, rabbit agility, rabbit convention, rabbit breed show, guinea pig events, guinea pig pignic, guinea pig breed show, guinea pig agility, etc. A small fee could be involved. A bonus to attending events put on by rescue organizations is that these are usually fundraisers that benefit guinea pigs or rabbits in need. You might also find a new friend to add to your family.
The list below includes some organizations that currently have events scheduled or had some in the past. This is strictly informational as a way to get you started on your search for an event in your area; inclusion on this list does not constitute an endorsement. For some of the general pet expos across the country, see links at the bottom. If you have guinea pig or rabbit events and you would like included, please fill out the form at the bottom so we can include it.
Rabbit Events
Rabbit Hoppy Hours
Think of Hoppy Hours as large-scale play dates for rabbits. People bring in their rabbits at the appointed time and all the rabbits are released into a safe play area to mingle. Toys of some type are usually provided and people often line up around the play area to watch the bunny interactions. A few people from the organization running the Hoppy Hour usually stay in the play area to watch for any aggression and prevent fights. The number of rabbits who attend vary at each event. This video from the Animal Humane Society shows how one organization does Hoppy Hour.
California
The Bunny Bunch
Fountain Valley and Montclair
Bunnies Urgently Needing Shelter
Santa Barbara County
San Diego House Rabbit Society
San Diego
Georgia
Georgia House Rabbit Society
Marietta
Indiana
Indiana House Rabbit Society
Indianapolis
Minnesota
Minnesota Companion Rabbit Society
Golden Valley and South St. Paul
New Mexico
New Mexico House Rabbit Society
Santa Fe
Washington
Seattle Rabbit Agility Club
Seattle
Wisconsin
Wisconsin House Rabbit Society
Waukesha
Rabbit Bunnyfests, Spa Days, Etc.
Many animal rescue organizations put on one or more fundraisers throughout the year. These are vital to the mission of helping rabbits in need and also often help people who share their lives with rabbits learn more about caring for these precious souls. Spa Days usually offer grooming services for a small fee.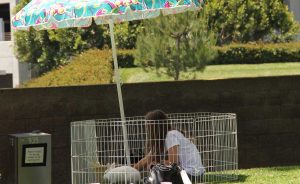 California
Bunny Expo
The Bunny Bunch
Montclair and Fountain Valley
Bunnyfest
San Diego House Rabbit Society
San Diego
Bunnyfest
The Rabbit Haven
San Jose
BunnyLuv Fest
BunnyLuv Rabbit Resource Center
Van Nuys
Florida
Southeast Bunfest
Humane Society of the Treasure Coast
Stuart
Georgia
BunnyFest
Georgia House Rabbit Society
Marietta
Illinois
Bunnyfest Picnic
House Rabbit Society of Chicago
Wood Dale
Michigan
Bunnypalooza
Great Lakes Rabbit Sanctuary
Whittaker
Missouri
Annual Bunny Expo
Missouri House Rabbit Society
Chesterfield
New Jersey
Bun-Nanza
Safe Haven Rabbit Rescue
Clinton
Ohio
Midwest Bunfest
Ohio House Rabbit Rescue
Columbus
Oregon
Bunny Spa Days throughout the year and the annual Bunny-Palooza event
Rabbit Advocates
Portland
Texas
Rabbit Roundup
House Rabbit Resource Network
Austin
Canada
Bunanza
Canadian Rabbit Hopping Club
Calgary, Alberta
Bunfest
Rabbit Rescue Inc.
Toronto, Ontario
Rabbit Agility Or Rabbit Hopping
These activities are for rabbits who enjoy activity and are curious. They require training, and if your pal enjoys it, the time spent together further increases the bond between you. Agility and hopping are similar, but not the same. Hopping focuses more on just jumps. Watch for demonstrations at pet expos in your area or a club, if one is near you. Find out what the sports are all about before you decide if it's right for your rabbit.
American Hopping Association For Rabbits And Cavies
Several districts nationwide
California
San Diego Rabbit Agility Club
The Bunny Bunch
Agility Training
Fountain Valley
Washington
Seattle Rabbit Agility Club
Seattle/Tacoma
Southwest Washington Rabbit Hopping Club
Lewis County
Canada
Canadian Rabbit Hopping Club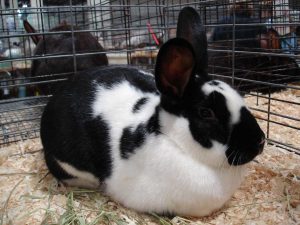 Rabbit Breed Events
These events judge rabbits against a standard for the breed. Throughout the year, rabbit breed clubs hold their nationals and then the annual ARBA convention is where rabbit breeds of all types come together to award rabbits who most closely meet the breed standard. It's like the Westminster Kennel Club Dog Show, except for rabbits. Rabbits are groomed especially for the show. Depending on the breed, this can be an intense process. Rabbits also need a calm temperament and to be OK around crowds and being handled by judges.
American Rabbit Breeders Association National Convention 2017
Indianapolis, Indiana (the location changes every year)
Numerous shows occur throughout the year across the country that are put on by affiliated breed clubs. Search for these at the ARBA website.
Guinea Pig Events
Guinea Pig Pignics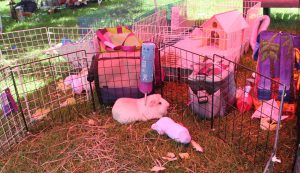 A fun gathering for guinea pigs and their human friends, pignics are a relatively recent phenomenon. Videos on YouTube can show you what they are like. The Facebook page Pignic Central states that it's the information source for all pignics worldwide. The Boston Pignic began in 2002. You can also search the listing on the Cavy Madness website to find a pignic near you. It's a good idea to read the pignic etiquette guidelines before attending one.
Toronto Guinea Pig Pignic
Toronto Pignic
Toronto, Ontario, Canada
Guinea Pig Breed Shows
The American Cavy Breeders Association works with the American Rabbit Breeders Association to hold guinea pig breed shows. As with rabbits, the guinea pigs are judged against the standard for their breed. The guinea pig judged closest to the breed standard wins. Local guinea pig clubs hold shows throughout the year, and the annual American Rabbit Breeders Association Convention includes guinea pigs in the show arena. Check out the websites for both ACBA and ARBA for show information.
Guinea Pig Obstacle Courses
Although people have likely been setting up obstacle courses for their guinea pigs' amusement for some time, a new sport is developing known as Cavy Courses, which seeks to formalize guinea pig obstacle courses as events.
American Hopping Association For Rabbits And Cavies
Several districts nationwide
Pet Expos For Any Type Of Pet
Pet expos gather together pets, pet products, informational talks and demonstrations about pets. The predominant pets are dogs and cats, but often sections for reptiles, fish, small animals and birds are included. Hundreds occur throughout the year, and the below list merely scratches the surface. Do an internet search for your area to find more.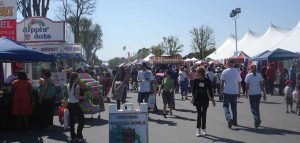 Numerous Events Nationwide
Amazing Pet Expos
California
America's Family Pet Expo
Orange County
Illinois
Chicagoland Family Pet Expo
Indiana
Great Indy Pet Expo
Indianapolis
Iowa
Great Iowa Pet Expo
Des Moines
Maryland
World of Pets Expo
Timonium
Michigan
Novi Pet Expo
Novi
Missouri
Great KC Pet Expo
Kansas City
New Jersey
Super Pet Expo
Edison
Ohio
All American Columbus Pet Expo
Columbus
Virginia
Super Pet Expo
Chantilly
World Of Pets Expo
Hampton
Wisconsin
Great Lakes Pet Expo
Milwaukee
Winnebago Pet Expo
Oshkosh
Canada
Calgary Pet Expo
Calgary, Alberta
Pacific Pet Expo
British Columbia
Newfoundland Labrador Pet Expo
Mount Pearl, Newfoundland
Canadian Pet Expo
Mississauga, Ontario
Tell us about your event!