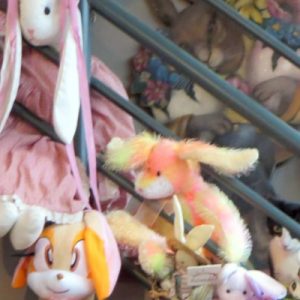 If you're longing to see the world's largest collection of bunny collectibles, certified by Guinness World Records, then you're longing to visit The Bunny Museum. What began with the gift of a plush bunny from Steve Lubanski to Candace Frazee blossomed into a museum that the married couple opened in their Pasadena home in 1998. After that first bunny gift, the couple soon made it a hoppy habit to exchange bunny gifts daily as a symbol of their love. The museum's motto is that it's "the hoppiest place in the world."
What Is This Bunny Museum?
The Bunny Museum website states that at the time the museum opened in 1998, it had about 8,000 items. The number of bunny items in the collection swelled to about 34,000 by 2017. The Bunny Museum outgrew the home in Pasadena and relocated to nearby Altadena in April 2017. The museum includes artifacts, objects, and specimens of artistic, cultural, historical, or scientific importance. The Bunny Museum incorporated in 2014, and the couple plans for the collection to remain whole after their passing.
But the museum isn't only home to amazing collectibles, it's also home to some live bunnies who are members of the couple's family. Oh, and Steve Lubanski and Candace Frazee also live at the museum. According to an article in Pasadena Weekly, the off-limits bedroom is on the second floor of the museum and the kitchen is roped-off.

The World Famous Bunny Museum
The Bunny Museum is regularly included in lists of strange, odd, or weird museums, as you can see by scrolling The Bunny Museum Facebook page. Huell Howser visited it several years ago, and that visit can still be viewed on the KCET website. The Bunny Museum website features several videos with actor Elijah Wood promoting the museum. And there's a more recent video from USC Annenberg Media that shows the new location. Fans of The Bunny Museum extend worldwide. Earlier in 2017, a visit was even livestreamed to China. In May 2017, the museum welcomed its 28,000th visitor, who was given a bunny goody bag.
Visiting The Bunny Museum
The Bunny Museum is open Monday through Saturday from 12 p.m. to 6 p.m. and from 12 p.m. to 5 p.m. on Sunday. There is a small fee for entry, and visitors must follow a few rules. No coats, hats, bags, or purses are allowed in the museum. Visitors can rent a locker for $1. No tripods or selfie sticks are permitted. Exhibits cannot be touched. Cameras are permitted, but only for personal use. Parking is on the street, and the museum is wheelchair accessible. The museum is located at 2605 Lake Avenue, Altadena, CA.