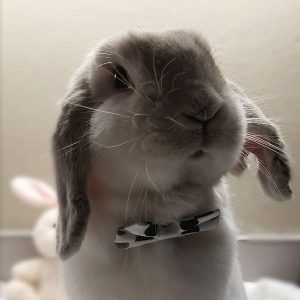 Therapy animals are nothing new, but using pets other than dogs or cats for therapy is still something that might turn heads. But it shouldn't. Many companion animals with the right temperament can offer emotional support to people. Rabbits are one of these. And the Healdsburg Police Department of northern Sonoma County in California just got a new therapy officer, a lop-eared rabbit named Speedy.
Therapy Rabbits At The Healdsburg Police Department
While Speedy's story begins a few weeks ago in late July, a rabbit therapy officer is nothing new for the Healdsburg Police Department. This is thanks to Officer Katie Close, who introduced the department to its first rabbit therapy officer back in late 2016.
She told The Healdsburg Tribune that after a particularly horrific case, she could see that fellow officers were visibly distressed. As a peer support coordinator, she wanted to do something to help. She breeds Rex rabbits and brought in four baby rabbits from a recent litter. The positive effect was immediate. In time one rabbit, Norman, took on most of the therapy duties. Those duties included charming the staff, visitors, and the community.
But Norman's days as a therapy officer couldn't last forever. He was adopted by a dispatcher and retired as a therapy officer. Close filled the job opening temporarily with other Rex rabbits from her rabbitry, but she hadn't yet found a rabbit with the perfect personality.
Speedy Arrives At The Healdsburg PD
The lop-eared rabbit named Speedy was found by Close during a drive home after work in late July. She told The Healdsburg Tribune that Speedy dashed in front of her on the road while she was thinking about what to do to continue the rabbit therapy officer program. She stopped and captured the white, lop-eared rabbit and got him cleaned up and checked out by a veterinarian. No owner was located, so Close tried out Speedy as the therapy officer. He settled into the role like it was second nature. Close says his title now is Chief Morale Officer.
The Healdsburg Police Officers' Association's Facebook page noted on August 12 that Officer Speedy was back at work on light duty. He is recovering from neuter surgery.