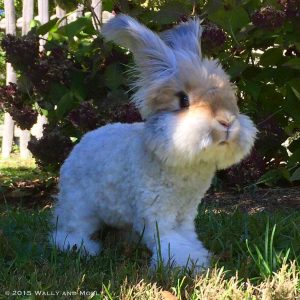 OK, we are a bit late in covering the phenomenon of Wally The Bunny but he must be mentioned in any list of celebrity rabbits. Wally burst on the social media scene at the start of 2015 with an Instagram account. His claim to fame? His fur coiffure.
Because Wally is an English Angora breed, intense daily grooming is needed to prevent matting of the fur. His owner, Molly, opted to give him a unique fur trim that left his ears, face, and paws with the glorious long fur of the breed, but was trimmed short over his body. She posted photos to Instagram, and a star was born. He currently has more than 330,000 followers on Instagram, and his recent photos typically get 6,000 to 10,000 likes, while his videos pile up 20, 30, or even 40,000 likes.
Wally's amazing looks and love of the camera combined with his owner's charming stories about Wally's life proved irresistible to most netizens, and his fame continued to grow. Later in 2015, Wally expanded to Facebook, and in 2016 he conquered Snapchat. Tumblr was added in 2017.
How did Wally look before his famous fur trim? Take a peek at a photo of him with his owner before the trim.
Wally's Fame Expands Beyond Social Media
Wally is the star of his own book, which was released in February 2017. It's available at Amazon and other book retailers. His image also graces various products at an online Dutch store.
Magazines, newspapers, websites — coverage of Wally popped up almost everywhere!
Wally Gets A Friend
On July 22, 2016, it was announced via the 8th installment of a Wally story that a new bunny had joined the family, Suki. She is also an English Angora. PeoplePets even did an article about the new bunny. Although not the camera lover that Wally is, Suki allows some photos. Molly, their owner, has owned rabbits before and did a lot of research before choosing the English Angora breed. She cautions people not to get an English Angora or any rabbit without realizing the commitment involved.
Wally Takes To The Stars
If you've just learned about Wally, you'll be sad to know that he departed this world on March 11, 2017. It was sudden, and his owner posted about it on Facebook and Instagram. The condolences poured in, with more than 5,000 comments on Facebook and more than 7,000 on Instagram. Gone too soon, his memory lives on in all his fans.