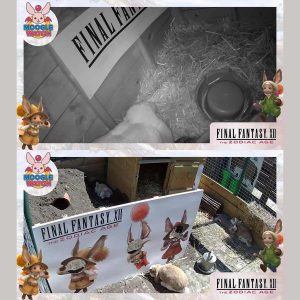 One of the best ways to see what bunnies do in the dark is to find a livestream of bunnies or a bunny cam that has night vision. And there's a fun one that just went live, but it will only be around for a few days on the Square Enix Twitch channel. Anyone interested can view a cute group of rabbits, night or day, until 12 p.m. London time on July 11. This livestream of a group of bunnies is available thanks to the partnering of game company Square Enix and the London-based charity organization Vauxhall City Farm.
What do bunnies do in the dark? It looks like eating, grooming, and sleeping are popular activities, much like during the day! If you want to check out a bunny cam that's been around for a few years, Animal Planet and the House Rabbit Society teamed up to for their Bunny Cam.
Square Enix temporarily turned over its Twitch channel to all this bunny glory to celebrate the upcoming release of the remastered video game "Final Fantasy XII: The Zodiac Age," which goes on sale July 11 for Playstation 4. Vauxhall City Farm is the location of the rabbits, who get to lounge around and sometimes jump through a Final Fantasy sign with cutouts for Moogle faces.
A Moogle/Rabbit Connection
What are Moogles? They are a race of creatures in the game that bear some similarity to rabbits. However, Moogles are known to be great engineers and build airships. The Square Enix Twitch channel states that the rabbits in the livestream "have not yet demonstrated the ability to build airships."
Whatever the abilities of the Vauxhall City Farm rabbits, Square Enix offers a link for visitors to find out more about the charity and to donate.
Rabbit Fun On Twitch
The lack of gameplay on the channel throws some viewers for a loop, and they ask what's going on in chat. Others seem to really like the rabbit takeover. Moobot pops into chat regularly to offer some explanations and urge people to vote on names.
That's right, the bunnies need names. The names being voted on in chat for the first bunny are Miria, Mog Flanders, Moggymoo, and Moglinardo De Palizio De Solei. People can submit other names for future polls via Twitter using the hashtags #mooglewatch and #mooglename.
The fun doesn't end, because viewers also have a say in the treats offered to the rabbits. A poll occasionally pops up in chat to determine what treats are fed to the rabbits. The choices are carrots, kale, broccoli, and spinach.
Celebrating Magical Rabbit Moments
With a livestream, it's difficult to know when anything noteworthy might happen. Visitors to the channel are encouraged to share any interesting rabbit videos or screenshots they capture. Sharing is done using the hashtags #mooglewatch or #FFXII.
Square Enix also posted a video immortalizing more than 30 hours of live rabbit action. It's recommended viewing for anyone down in the dumps, at least that's my opinion!
We're celebrating next week's launch of #FFXII TZA with a week-long moogle/rabbit livestream! #Mooglewatchhttps://t.co/fq5pz4mf9V pic.twitter.com/UcFQsMswm3

— Final Fantasy (@FinalFantasy) July 5, 2017
Moogles are in #FFXII and they're as cute as ever! pic.twitter.com/DCQEU7pDbP

— Final Fantasy (@FinalFantasy) June 28, 2017