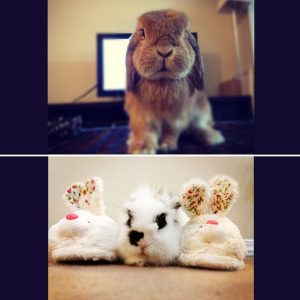 OK, apparently I've been living under a rock for the past few years. That's the only explanation for why I didn't know about the Instagram account Bunnymama until recently. To date, it has more than 4,500 photos and videos posted and more than 700,000 followers. That's right. It's pushing 1 million people getting a "bunny fix" from charming photos and videos.
Bunnymama In The Beginning
It started with the male bunnies Eddy and Rambo, who are a mixed Lionhead and Holland Lop respectively. The Instagram account dates from late 2012 and is full of photos of bunnies doing bunny things: playing, yawning, sleeping, eating, relaxing, grooming, and being mischievous. Sometimes Bunnymama adds a bit more to a scene by having the rabbits wear a hat, glasses, or other small item, or including a prop. And, naturally, plenty of close-ups of face, feet, eye, nose, tail, and anything else cute about bunnies — everything! — fill out the photos.
Eddy and Rambo, below, are the bunnies who started it all.
Milestones For Bunnymama
The beginnings were humble, with maybe a few hundred likes per photo. But things changed rather quickly. About eight months after the first photo posted, the power of bunny butts was proved when the first photo of the rabbits to top 1,000 likes was an image of Rambo's backside as he flopped on the floor. After that, the rabbits were on more people's radar, and more and more photos topped 1,000 likes. By the end of 2013, they were regularly getting 2 and 3 thousand likes per image, and sometimes topped 4 thousand. The first image to get 10,000 likes posted about 15 months after the account began. The 20, 30, 40, and 50,000-like milestones came within the next several months before the account was even two years old.

The Bunnies Of Bunnymama
Eddy and Rambo were the stars in the beginning. The website and Twitter account are named for them. Bunny lives are short, however, and these two wonderful souls are now at the Rainbow Bridge. When Rambo passed in late 2013, Marbles joined Eddy after several weeks. The two bonded and lived happily for a while, and then Oli joined them. They were a happy trio until Eddy passed in late 2014. Taffy, a near twin to Oli, then joined Marbles (also known as Moo or Marbee del Moo) and Oli. Bowie entered the scene in early 2016. He looked very much like Eddy, with Bunnymama even calling him a mirror image. The newest member of the family, though, is Ellie (Eleven). He is a rescue bunny who is missing part of his left ear and has a similar look but different coloring from Bowie. They all live in harmony with Bunnymama in Vancouver, British Columbia. For more about the bunnies, check out their brief bios on the Eddy and Rambo website.
Fame For Bunnymama
The rabbits featured on the Bunnymama Instagram account gradually gained followers since late 2012. According to articles from 2013 in the The Daily Mail and VetStreet, the followers then topped 344,000 and 402,000 respectively. Photos of Eddy and Rambo appeared in the Bunspace calendar, a textbook in Scandinavia in a section on rabbit bonding, "Bunny Mad Magazine," and more. The In The News section of the Eddy and Rambo website lists more details.
Although Bunnymama wishes to remain anonymous, she's using the notoriety of the account to not only spread bunny joy, but also to help people learn more about bunnies. She occasionally posts care tips and directs people to the Eddy and Rambo website for more information. A store featuring bunny-themed merchandise, many that use images of the Bunnymama bunnies or designs inspired by them. In addition to the store, other social media also spread the joy of these bunnies, including Facebook, Twitter, and new Instagram and Facebook accounts touting the Worried Potato, otherwise known as Oli.
So far, this video with more than 221,000 views is one of the most popular posted by Bunnymama.