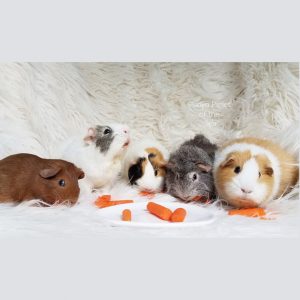 Guinea pigs are inherently cute. Some guinea pigs are lucky enough to have an owner who finds a way to share that cuteness with the world. Enter Ponyo Piglet of the Sea, who first appeared on Instagram in early 2013. Yes, she is named after the famous Miyazaki movie "Ponyo." Her following started small with just a few hundred likes on photos. But that was then. Now her Instagram followers top 100,000, and several of her more recent videos rate several hundred thousand views. Her Facebook account has more than 37,000 followers.
The Appeal Of Ponyo The Guinea Pig
Our furry friends can sometimes be camera shy or too on-the-go to permit good photos. That's not Ponyo. She is quite the photogenic guinea pig! Amy, her owner, often comments about how laid-back Ponyo is and how bonded they are. Amy is a long-time guinea pig owner, having shared her life with them since she was 7 years old. Ponyo and Amy live in Virginia. Photos of Ponyo eating, snuggling, and helping Amy with college homework earned them a following. Then the family grew.
Ponyo And Her Guinea Pig Friends
Several months after Ponyo's arrival, two guinea pig brothers joined the family. Finn and Jake are named after characters from the TV cartoon "Adventure Time." Several months after that, a guinea pig sister brought the guinea pig family number to four. She was named Mei, after a character in the Miyazaki film "My Neighbor Totoro." About a year later, Amy's brother surprised her with another guinea pig sister named Momo. They were a happy five for a little more than two years. In early 2017, Amy announced that Jake lost a battle against a fast-acting cancer. The four became five again when another young male joined them. He's named Winston.
Milestones Of Ponyo Piglet Of The Sea
Trips to the beach, a bamboo forest, a historic battlefield, road trips, looking at Christmas lights, visiting parks, the mountains, and Colonial Williamsburg — photos and videos all of these and more add to the fascination of Ponyo and her friends. But life isn't always easy. During the more than four years of posts, health scares have occurred. Ponyo overcame two ear infections and an ovarian cyst, while Momo and Winston both faced upper respiratory infections.
As the guinea pigs' lives progressed, so did Amy's equipment. Additions of a new camera, backdrop, and lens helped the photos and videos to be even more technically perfect and appealing. And that gave rise to an Etsy store, Ponyos Prints, that offers cards featuring images of Ponyo and friends.
Popular Ponyo Posts
Still wondering about the appeal? Check out just a few of the popular posts. If you visit Ponyo's Instagram or Facebook accounts, you're sure to find others that you might like even more.