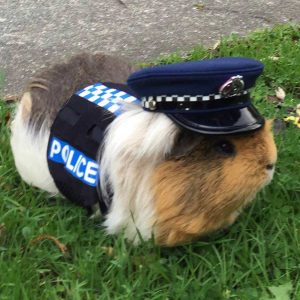 Elliot the guinea pig is officially an internet sensation. He was introduced on the New Zealand Police Facebook page on April 13. The post states that he is the newest police employee, and he joined the Police Media Centre to help because of the excess of calls to the New Zealand Police Easter Bunny. That post prompted more than 250 comments and nearly 2,000 reactions. Certainly one of the more popular posts in recent weeks, it sparked some interesting replies, including:
Kelly Dee: "If you break the law, you're guinea get arrested."
Jaime Burdt: I bet Elliot would be really good at detecting drugs so long as they are in a crinkley plastic bag.
Julie Agnew: Oh he's so cute….Looks great in uniform! Upholds the law….speaks another language so probably has a sexy accent…..NZ Police……am I allowed his phone number? Lol
Bernadette Staal: Well they did say we were getting more officers on the beat.
The World Meets Elliot The Guinea Pig
Elliot might have led a relatively normal existence at the Police Media Centre, but then his posts caught the attention of Unilad, Mashable, Buzzfeed, and numerous other media outlets. Elliot's story flashed across the internet, and the world now knows that the New Zealand Police have a guinea pig mascot. Elliot's story even sparked its own Twitter moment. The video created by Unilad and posted on its Facebook page has so far earned more than 1.5 million views and more than 27,000 comments.
Elliot The Guinea Pig On The Job In New Zealand
A day after the New Zealand Facebook page posted that Subarus are the most stolen cars in New Zealand, Elliot was on the case warning people how to avoid being the victim of car theft.
Elliot's next post focused on driving safely around schools and children. His message bears repeating.
"Remember people, the kids are going to be out and about walking and biking, and crossing roads. Like me, they are small and unpredictable, so you have to watch out! Keep an eye out for school patrols and please do your part in keeping our kids safe. Drive to the conditions, reduce your speed and stay alert. Oh, and eat your greens….always eat your greens."
This post skyrocketed to nearly 10,000 reactions and nearly 2,000 comments. It seems that most people can't get enough of Elliot. Check out some of the comments below:
Alisha Smith: I feel safe knowing officers like this are out there protecting the people
Gael McPherson: Cute and smart way to get the message across..respect to all police, especially ones with a sense of humour too.
Kelly Knowles: Thank you, Constable Elliot, for your dedication & hard work towards keeping our streets safe. You deserve a carrot!
Tania Wang: Striking fear in to the hearts of criminals… or melting them with cuteness whatever works.
What do you think of Elliot?