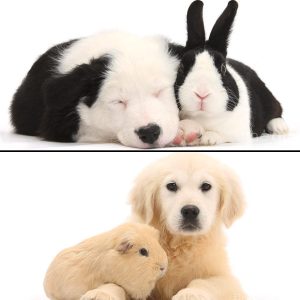 When you have a photographer's eye, you often pick up on things that other people might miss. For example, animals of different species who look alike. So much alike, that they might be called pet brothers from other mothers. Photographer Mark Taylor of Warren Photographic, a UK-based image library of animals in action, struck a happy nerve with such images. People on the internet are loving them. While these aren't the only pet photos Taylor takes, they are rapidly becoming the most popular.
"I don't know how many views you have to have before you can say something is viral," he says. He believes that the original article about his pet brothers photos has appeared on many social media sites and probably earned several million views. He also shares some on his Facebook and Instagram accounts.
The History Behind "Pet Brothers From Other Mothers" Photos
Taylor actually has his mom to thank for the idea behind these photos.
"My mum's name is Jane Burton," he says. "She was also a pet photographer, and the idea of putting matching animals together was hers. It started when she noticed a friend's rabbit and kitten, Tiffany and Turbo, were an exact match."
Taylor started out as a landscape photographer 21 years ago, but then switched to pet photography. He's been doing the Pet Brothers From Other Mothers series for more than 15 years. He says recently he was concentrating less on animal pairings and more on animals in action for pet food packaging.
"The recent resurgence on the internet has made me reconsider," he says. "I don't have anything in the pipeline, but I'd like to do a bit more with smaller animals like hamsters and chinchillas."
"Pet Brothers From Other Mothers" Photo Shoot Surprises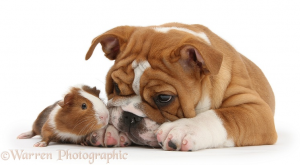 Taylor says that a pairing between a bulldog and guinea pig was one of the most surprising for him because of the tenderness the bulldog showed. A pairing of a large chicken and a dog resulted in a bit of chaos when the chicken made a mess and then took off and landed on a studio light. And he's seen many male rabbits get rather amorous with, well, almost anything.
Helping Hands For The Cute "Pet Brothers From Other Mothers" Photos
Taylor estimates that he's done hundreds of animal pairings to get the images for his Pet Brothers From Other Mothers photo collection. Currently, he says a breeder keeps an eye out for matching animals for him to photograph. His assistant, Britta, is also crucial to getting the shots.
"[She] places the animals on the set and keeps them entertained by playfully dangling feathers and other toys to keep them occupied, rather than wandering off. She is essential to this type of photography, and I couldn't work without her."
Tips About Photographing Animals
Over the years, Taylor learned a few things about pairing animals. The best pairings, regardless of species, occur when the animals are brought up together or are introduced to each other at an early age. That being said, he warns that terrier dogs and adult cats are the least compatible with other animals.
Every photo shoot is approached with care.
"The animals don't always get along," he says. "If they have not met before, it is important to first introduce them with a barrier between so one can judge if there is likely to be any arguing."
Even if the pets tolerate each other, the photo shoot might not work out.
"It's nearly always a challenge because of the difficulty in getting the animals to look relaxed and, at the same time, to be either focused on each other or the camera. They usually have other agendas!"
With pet photography, it's also important to know when to stop.
"There have been a number of times I have had to just abandon a shoot because the animals don't like working in the studio," he says. "It is important to know when to give up. If the animals are unhappy you're not going to get good photos anyway."
Taylor says that photographing animals in unpredictable, but it adds to the variety of the job and is his favorite thing. What could be next? Perhaps a book or a calendar of the Pet Brothers From Other Mothers?