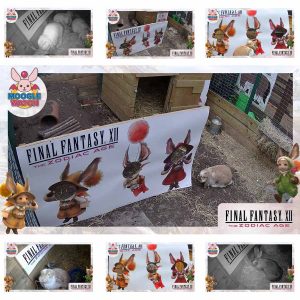 In one of the cutest promotional events ever, video game creator Square Enix hosted a livestream of rabbits on its Twitch Channel for a week before the release of its remastered game "Final Fantasy XII: The Zodiac Age" for Playstation 4. Why rabbits? Because rabbits resemble Moogles, who are prominent characters in the game. The livestream ended July 11, the day of the game release. Read more about the event in a previous article. But who are these rabbits, and how did it all happen?
Meet The "Moogle" Rabbits
Five rabbits participated in the livestream for the "Final Fantasy XII: The Zodiac Age" release. The livestream originated from a rabbit habitat at Vauxhall City Farm, a charity based in London. Its website states that it's a peaceful escape from city life.
Michelle Frank of Vauxhall City Farm says one female and four neutered male rabbits were shown in the livestream. The female rabbit is the large silver one. She and the other larger, brown rabbit are about 4 years old. The smaller, fluffier rabbits that are tan and white are French Lops. They are about a year old.
Rabbits Live The Moogle Life
How did the rabbits react to the "Final Fantasy" flair added to their habitat?
"The rabbits were curious about the additional things in their pen," Frank says, "which is what we were hoping for, to get them to interact with the face cut-out boards, but largely weren't bothered and are just going about their rabbit-y thing really."
The stream was on an automatic switch between several cameras set up around the habitat. Frank explains that a Square Enix employee did manual switching during feeding time or when something interesting happened, as time permitted.
Polling throughout the stream bestowed temporary new names on all the rabbits. The Square Enix Twitch Channel lists the final name results:
First Moogle: Moglinardo De Palizio De Soleil XII
Second Moogle: Alice
Third Moogle: Fran
Fourth Moogle: King Moogle Mog XIII
Fifth Moogle: Mogbun
"In real life, the rabbits do all have names," Frank says, "these are just temporary names while they are on the livestream, after which they will revert back to their original names, which are Silver, Buckthorn, Pipkin, Fiver, and Bigwig. They're our 'Watership Down' rabbits."
Life After The Moogle Livestream
If you're missing the rabbits, the Square Enix Twitch channel now includes several videos with hours of footage to immortalize the action. So, you can still see Moglinardo De Palizio De Soleil XII, Alice, Frank, King Moogle Mog XIII, and Mogbun on demand. And if you're in London, you can visit in person.
The Vauxhall City Farm accepts donations to help care for all the animals at the farm. There's even an Amazon wish list set up for gifts to be sent that way.
Our 1st 4 moogles are called (clockwise from top left) Moglinardo De Palizio De Soleil XII, Alice, Fran & King Moogle Mog XIII#MoogleWatch pic.twitter.com/EXVQUbaZv1

— Final Fantasy (@FinalFantasy) July 10, 2017