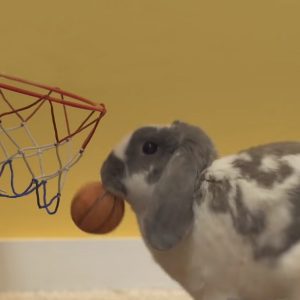 Bini is not an average bunny. Oh no. This Holland Lop's skills include playing basketball, painting, styling hair, and tricks (jumping, standing, and turning). With so many talents, it only needed time for Bini The Bunny to achieve an award. And what an award. In September 2017, Bini's owner announced that Bini now holds the Guinness World Records certificate for "the most basketball slam dunks in one minute by a rabbit." Bini made seven slam dunks in that minute. See him in action on the Guinness World Records website.
Bini And His Record
In addition to earning the Guinness World Records certificate and holding the rabbit slam-dunk record, Bini the Bunny is also part of the new Guinness World Records book "Amazing Animals." Bini is even on the cover! The book showcases the talents of many other animals. Bini The Bunny's slam dunks inspired an online game that's featured on the Guinness website. You can test how many slam dunks you can make and enter for a chance to win a prize. The contest ends at 23:00 GMT on October 31, 2017.
Bini The Bunny's Story
Bini celebrated his 5th birthday in March 2017, but his celebrity began about four years ago with a YouTube video that showed him doing basketball dunks. That's right. Bini truly enjoys slam dunking! His owner, Shai Asor, was interviewed with Bini by Guinness World Records for a Meet The Record Breakers video. Asor confirmed that basketball is Bini's favorite activity. Asor even made a video showing how Bini must get in several slam dunks before going to bed each night. This latest achievement only adds to Bini's celebrity. His Guinness video has more than 60,000 views on the Bini The Bunny Facebook page and more than 85,000 on the Guinness YouTube page.