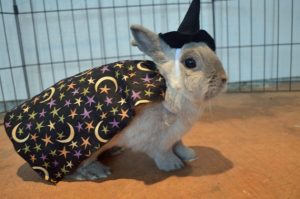 With Halloween just around the corner, costumes are on the mind of many people. And more and more people are including their pets in the holiday by decking them out in pet costumes. The National Retail Federation estimates that 16 percent of pet owners plan to dress their pets. Although the majority are likely dogs and cats, small mammals like rabbits, guinea pigs, and others are joining the fun.
Pet Costume Safety
Halloween is only fun if everyone enjoys themselves. If you choose to include your rabbit, guinea pig, or other small mammal pal in costume fun, consider how to maintain his or her health and happiness. The following tips help. And don't forget to have a treat on hand for your rabbits or guinea pigs.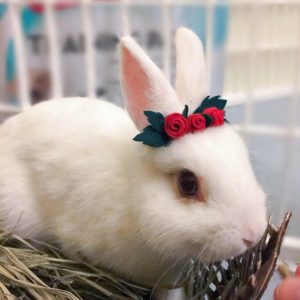 Costume Go or Costume No? Before getting a pet costume, think about your pet's personality. Does it seem like your companion would tolerate a costume? If you're not sure, do a few tests to see how your furry companion responds to having something light on his or her head, draped on the body, or around the neck.
Design Matters! Choose a pet costume that allows your buddy to move freely and isn't heavy or made of anything that's possibly toxic to your pet.
Supervise, Supervise, And Supervise! If it seems like your pal is willing to wear something, plan to have him or her under constant supervision while the pet costume is worn. That way you are on hand for an instant rescue if your pet begins chewing on the costume, gets it caught in something, wraps it tightly around the body, or some other danger. Other pets might also chew on, get caught in, or have a dangerous encounter with the costume. Just another reason to always supervise when a costume is worn.
Timing Is Everything! Keep pet costume wearing to short spans of time. We're talking minutes. Don't put a costume on and leave it for an hour or more. You just need a quick photo anyway, right?
Bring On The Cute Pet Costumes!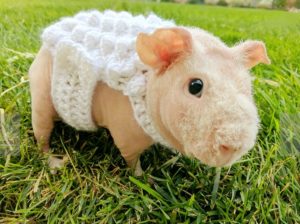 With all safety concerns in mind, you're ready to shop costumes, or make one of your own. Here are a few we found in a random internet search. No endorsement is implied. Use your usual caution as a consumer before making a purchase.
Pet Costumes on Etsy
The Etsy shop ToffeeCrafts out of Hawaii offers costumes using hats, capes, and collars to create fun rabbit looks, be it superhero, witch, elf, clown, or tuxedo-clad wonder.
Sarah's Enchanting Creations of Washington offers several cute crocheted costumes for rabbits and guinea pigs.
Crowns, a cap, and anime inspiration abound at Harus Art Studio of Texas.
Retailers With Pet Costumes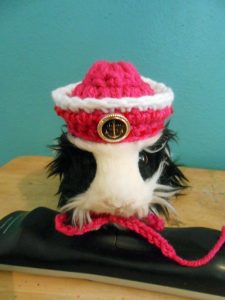 Although most retailers don't carry costumes specifically for small mammals, you might find some tiny dog or cat costumes that could work. The below list includes some stores, but many more are out there.
Petsmart
Petco
Amazon
Walmart
Target
Other Websites Featuring Pet Costumes
If you have a local guinea pig or rabbit rescue, try checking the website in case it has a store that might include costumes. Also, you might find sites devoted to rabbits or guinea pigs that offer costumes. Beyond finding a ready-made costume, you might be inspired to make your own by seeing other costumes.
Cuddly Cavies
Pinterest (Rabbits)
Pinterest (Guinea Pigs)
Whether or not your rabbits or guinea pigs wear a costume, keep in mind other safety tips for the holiday. Don't use flame in any room your pet has access to, keep your pet away from the door, if you are using special noises or scents for the holiday, keep them away from your pet, and if you throw a party, keep your pet in a safe, quiet area. Happy Halloween!