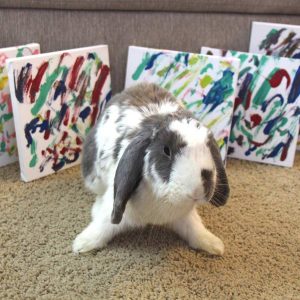 Bini The Bunny and his owner, Shai, are shining examples of what happens when people encourage natural behaviors in their furry companions. This 5-year-old Holland Lop rabbit is an internet sensation whose Facebook and YouTube pages describe him as "the only bunny in the world who can paint and play basketball." He recently also added the talent of combing hair to that list. Bini has been featured on several television shows and various websites. He even has a Wikipedia page. What makes Bini so fascinating?
Bini The Bunny's Talents Are Revealed
How does a rabbit learn how to play basketball? Bini started playing by himself, according to Shai's explanation on Facebook.
"One day I caught him playing with a small plastic ball. He rolled the ball from one side to the other, as if he was dribbling, and dropped it into a cardboard box, then proceeded to take it out of the box. I thought to myself — this is odd… I sat next to Bini and started to try to understand what he was doing, and how this game that he basically invented was fun for him."
From there, Shai reinforced the behavior to coax basketball dunks from the eager Holland Lop. A video posted to YouTube in 2013 showcases not only Bini's basketball skills, but also an adorable victory dance. Several of the videos include trained tricks, such as circling on command, shaking his head on command, and standing on his hind legs. These tricks all prove how much time the two spend together. Bini leads a full life.
Bini's painting talents were discovered by chance after a couple of incidents when Bini went crazy with some markers that had been left out when Shai wasn't there to supervise. The mess Bini created with the markers made Shai angry, but then his thinking changed.
"I realized that this is the same as his basketball hobby — if he seems interested in something, I won't stop him from it. In fact I would develop his talent further."
After working with paper, paintbrushes, and canvases, Bini was officially an artist with people clamoring to buy his artwork. Acrylic paints and markers on canvas seem to be his preferred style. Yes, several videos on his YouTube channel show him in action creating his masterpieces. His online store features his paintings.
In 2016, Bini's latest talent was revealed: hair styling! A video shows him holding a comb and giving Shai a makeover.
Enter The World Of Bini The Bunny
Perhaps Bini's greatest talent is just being a friend. Shai makes videos of their life together. And although having a rabbit (or human) roommate has some challenges, the love and respect the two have for each other is pretty clear. A video documenting their life as roommates is one of the most popular they've posted. Videos even follow their move to Los Angeles in 2016. Perhaps the funniest part of the videos is how Bini is treated as an equal.
With all that he's done, Bini's most popular video to date shows him playing an arcade "claw" game that dispenses tasty treats for rabbits, including carrots and strawberries.
Bini's adventures are also posted to Instagram and Twitter. This bunny has social media covered!