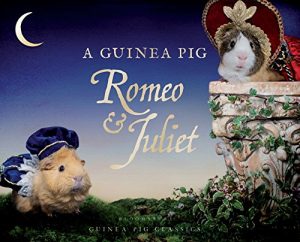 After reading "A Guinea Pig Romeo & Juliet," you'll forever get a furry, cute feeling when you think of it. That's because of the Guinea Pig Classics treatment. That's right, Bloomsbury Publishing is back with a new addition to its Guinea Pig Classics series. Author Alex Goodwin adapts the classic Shakespeare story to give it a guinea pig twist. Photography by set and fashion designer Tess Newall provides images that capture your heart. The book was released this week in the United Kingdom, and it's already on the way to being a classic of its own. The U.S. release is set for October 3.
"A Guinea Pig Romeo & Juliet" pairs up the team of Goodwin and Newall for this fourth guinea pig adventure. Their previous books include "A Guinea Pig Nativity," "A Guinea Pig Pride & Prejudice," and "A Guinea Pig Oliver Twist." That's quite a breadth of genres. Romeo and Juliet is the first dip into a classic tragedy. Does Goodwin alter the ending at all? The answer lies in the book!
Classic Stories Handled With Class, And Guinea Pigs!
Books in Bloomsbury's Guinea Pig Classics series are crafted with care and scrupulous attention to detail. These hardbacks feature thick paper stock, classy illustrations, and playful accent images to showcase the guinea pig photos. The guinea pig photos are the true stars. Whether the scenes are elaborate or simple, the costumed guinea pigs and their settings offer much to admire. Goodwin is adept at paring stories down to the basics and creating a swiftly paced, charming, and witty read. Just imagine snuggling down with your guinea pigs while you both enjoy a treat or two, and enjoying this new classic.
Who are the guinea pig stars? A cast of characters is included. And you can meet one of them online. Oscar the guinea pig of Oh My Guinea  fame plays the Prince of Verona.
EXCITING NEWS! My little poser Oscar is going to be starring in the next #GuineaPig Classics​ book by @BloomsburyBooks. Out THIS WH-EEK! ? pic.twitter.com/zA7r8kf5d3

— Ohmyguinea (@ohmyguinea) September 2, 2017
Helping Guinea Pigs
The books in the Guinea Pig Classics series aren't only about bringing a guinea pig slant to literature. On a more serious side, they remind people at the end that guinea pigs and other small mammals get abandoned, and that rescue centers need help.
The 64-page book is available at various booksellers.