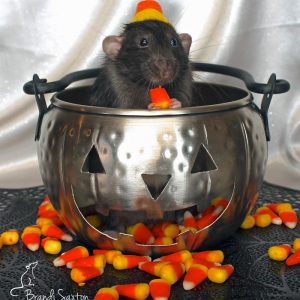 During holiday season, some people dress up their pets, even rats. Despite not being a seamstress, I'm guilty of it myself — and have made some pretty hilarious, yet simple costumes over the years. If you're like me, and LOVE Halloween, then the idea of a costume for your rat might sound pretty intriguing right about now.
Unfortunately, most stores and pop-up Halloween shops don't exactly cater to the rat demographic or their owners. Instead, they tend to sell images of rats as "scary" decorations. But that's OK; I've got some different ideas for you!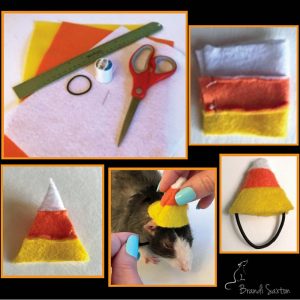 Note: Unlike some dogs, rats are much less cooperative about dressing up. It can make some rats miserable, plus it's not safe to leave your rat unsupervised in a costume. For this reason, costumes need to be minimal and temporary.
Ultimately, I think what most of us really want is an adorably memorable moment. That moment can be accomplished with a holiday-themed photo shoot. As a bonus, pictures last a lot longer than the outfit itself.
Choose Your Rat Models Carefully
The first thing to keep in mind is the personality of each of your rats. Avoid tempting your most timid rat to be a star. Instead, choose your most adventurous rat. The one who feels comfortable out in the open. Some rats do quite well having their photos taken, while others see it as sheer torture. Always put your rats' needs first. Never push them past their limit.
When I did cover photo shoots for my magazine, It's A Rat's World, I knew right off the bat which of my rats would not model for me. I was also mindful of when it was time to let my rats retire from starring in cover shoots. Even my most easygoing rats lost their tolerance for being photographed once they hit their twilight years.
Be Guided By A Theme
For me, the first step in doing a photo shoot is to come up with a theme. This helps you figure out what kind of costumes and props to get. You can get as creative or as minimalist as you want. Following are some ideas by theme: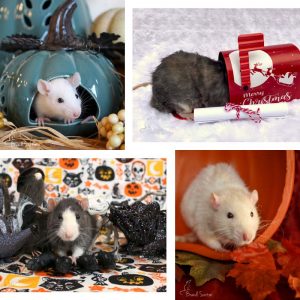 Halloween:
Witches
Pumpkins
Skeletons/graves
Jack-o'-lanterns
Candy
Plastic rats
Christmas:
Santa Claus
Christmas Trees
Presents
Ornaments
Fairy lights
Snow/snowmen
Sugary treats
Hanukkah:
Dreidels
Candles
Blue lights
Use Only Safe, Easy-On, Easy-Off Costumes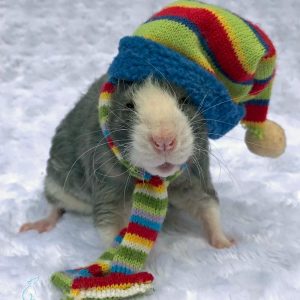 Once a theme is chosen then you can think about the costume. While a rat dressed up is one of the cutest things ever, I've personally found that just the right hat is often enough. This is especially helpful if you don't own a sewing machine. Plus, it's a lot less stress for your rat.
When making hats, I prefer using felt. Felt is easy to hand stitch, doesn't fray, and keeps a decent shape. I've also ripped rat-sized hats off small stuffed toys and even used a small tam I found on a bottle of whisky in Scotland. I just stitch elastic banding to whatever I'm using so it will stay on my rat's head. Make sure to measure the elastic so it's not too tight on your rat!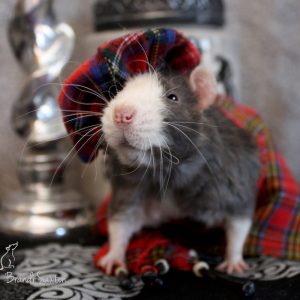 If you do choose a costume, I suggest going with something that fits more like a cape. Or one that only requires being attached with Velcro around the neck and waist. You want the garment to be easily put on and taken off, with minimal fuss for your rat. If you can't sew, look for something on Etsy.
Perfect Prop Selection
Your next step is to hit the craft stores, local dollar stores, or discount stores for holiday-themed props. This doesn't have to be expensive, and you can choose items you'd like to decorate with after.
One of the best bits of advice I can offer, though, is to think about the scale. The items don't need to be rat-sized, but they shouldn't be too much taller or wider than the rat or you'll need to crop the image. If you stand too far back to get the background/props you want, then your rat won't be the main focus of the photo. When your rat is too small in the image, you lose all the best details in their face and/or costume. The props should only complement the image, not steal the focus.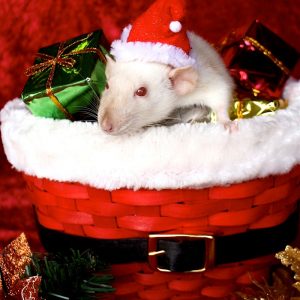 Try pulling out your phone or camera at the store, then find something that is rat-sized as a stand in. Place other objects around the "rat" to see how it all photographs. Keep in mind that no matter how perfect your set looks, it won't stay that way. I swear rats are like Godzilla on a set! If their tails don't knock everything over, they bulldoze right through it themselves. You need to constantly reset things, so keep that in mind when picking out props. Avoid fragile items!
You can also pick out a holiday print or solid material as a backdrop for your photo-shoot set. I usually buy 1 to 1 ½ yards of material at a fabric store. You can use wrapping paper as well, but avoid shiny ones, because light definitely creates a glare on it.
Tips For Creating The Perfect Set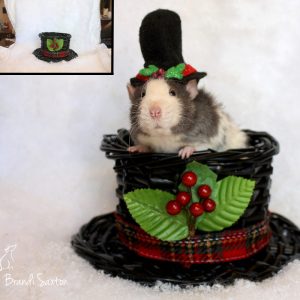 Do your photo shoot during the day, in a brightly lit room near a window with a good amount of natural light. Avoid using a flash if possible. A flash can create red-eye, shadows, and ruin the softness of natural light. If you must use a flash, I highly suggest using a device that bounces the light toward the ceiling or a nearby wall.
Now it's time to assemble the set for your photo shoot. Pay attention to the background. There's nothing worse than a mess in the background of a photo to ruin it. To avoid clutter, set up a base and a backdrop for your photo shoot. I use large pieces of mat board and then drape them with my material.
If you don't have a giant mat board, get creative and find things that can work as a makeshift "floor" and "wall." These need to be placed on a small table or something similar that isn't too close to the ground. The set should be on something that prevents your rats from being able to run off and keeps them in a confined area.
Test Before Bringing Your Rats To Set
Once you get your props set up, take a few test shots without your rat. This allows you to check out your composition and determine whether you have enough light. Make any needed adjustments.
Be Prepared For Accidents
Before grabbing your rat, gather up some rattie snacks (bribes) and some cleaning supplies to keep next to you. Rats almost always end up peeing and pooping on the set. This is why I use a mat board as a base. It protects whatever surface I use from unwelcome fluids. It's super undignified, but that's what happens when you work with animals. I keep a box of tissues or a roll of paper towels, along with a pack of wet wipes next to me for quick cleanups.
Time To Capture That Magic Shot!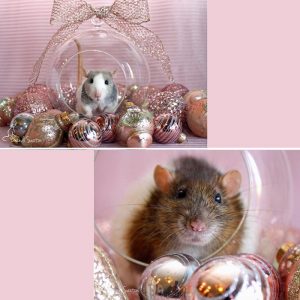 Now that all is ready, it's time to grab your little model. Let your rat or rats check out the area for a moment and see how they interact with things. Pay attention to how they feel. If they are acting nervous, reassure them they are safe. Once you're good to go, quickly get their hat or outfit on and try your best to pose them. The opportunity is very fleeting. Hand them a snack if needed to keep them in place.
Above all else, be patient! Rats don't take directions and do their own thing. Pay attention to their mood. Keep things short and give your rat lots of breaks off the set. Sometimes I take only a couple of shots and then switch to a different rat as a backup. Some of my best photos ended up being of a different rat than the one I initially wanted to use. The point is to keep your rats feeling safe and happy.
And That's A Wrap
In the end you probably get hundreds of terrible, blurry, and goofy outtakes (which can also make great photos). Hopefully the day ends with one perfect, frameable, and social-media-worthy shot that you have for years to come.
Happy Shooting!