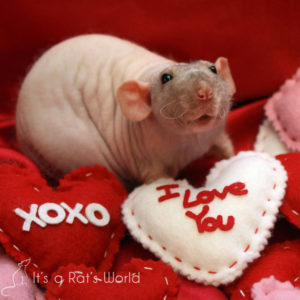 Dearest Ratones (as you are known in our home),
I write this letter to all 56 of you that have been a part of my life since 1994 when I discovered that rats are my animal soulmates.
I've loved animals all my life. From the moment of my birth there have been many different types of pets by my side. We had the obligatory cats and dogs, as we still do. To me a house is not a home without a dog in it. But I've also had parakeets, fish, turtles, ferrets, and several types of rodents. During my high school years, I even had three very sweet rats.
Yet, it wasn't until a year and a half after high school when I brought home Rory — a tiny, beige, hooded male — that my life as a rat lover truly began.
Dog Or Cat Person? Um, I'm A Rat Person!
I've been asked many times since then, "Why rats?" I've always been drawn to the misfits, underdogs, and outliers. These characterizations have certainly been applied to rats. And I have to admit that I do feel a strange sense of pride every time a look of disgust is followed by someone's skepticism at my having rats as a pet. But that's clearly not enough to keep my identity firmly placed as a rat person.
So, what is it exactly about you wonderful rats that I have fallen in love with over the years?
You Craved My Attention
In the beginning, I marvelled over how different and affectionate rats are from other rodents. You seem more like tiny dogs. Your intelligence and desire for human attention took me by surprise and instantly won my favor. So much so, that I regularly carried some of you around with me in my purse (set up with food, water, and a potty area). No matter where I went, you were with me, my constant purse companions. This even allowed for opportunities to show you off and educate people on what amazing pets you can be.
Over the years, however, I found that my time had to be divided once I became a mom. As my free-time, obligations, and priorities changed, my love for you did do not.
You Never Judged Me
You also ask so little from me. Of course, you've got the guilt-inducing, sad-eyed look down to a T, but I know that only comes from a place of a genuine desire to hang out with me. But there's no back talk from you and no unkindness. There is only total acceptance of who I am.
You never care about how I dress. This is especially nice, because most of our time together is now spent with me in my "comfy" clothes (and that's even pre-COVID).
You also lack discrimination when it comes to looks or age. I sincerely appreciate how none of you bring up the wrinkles that have been creeping in on me over the last 27-plus years.
You Showed You Cared
If you ever thought I needed some improvement, you were at least thoughtful in your approach. For instance, without any critical words when it comes to my hygiene, almost all of you have taken it upon yourself to perform daily grooming sessions on my hands or face. Two of you have even been considerate enough to offer/force upon me your Rodentist (rodent dentist) services.
You Offered Endless Encouragement
Grooming isn't the only way you looked after me. So many of you have been true-blue companions during tough times. What non-rat people are missing out on is this shockingly deep way you are capable of bonding with people. If more people were aware of this, I think your species could give dogs a real run for their money!
So maybe it's the way you give love back that I can't be without? To have rats that offer cuddles and even lick away tears from your face when you're feeling low, is like having fuzzy little therapists!
The Special Ones (You Know Who You Are)
Not all of you have been as affectionate, of course. A handful of you made me work extra hard to earn your trust. Whether it was just your personality or your life experiences from before we met, I had to be creative in getting you past your fear of humans.
We may not have bonded in the same way as I did with other rats, but we always developed our own special and memorable relationships. This is especially true when your health was in decline, and you were forced to rely on my care. Those experiences have become extra special to me, because I know your love was not given out freely, yet I eventually received it.
You Have Unique Personalities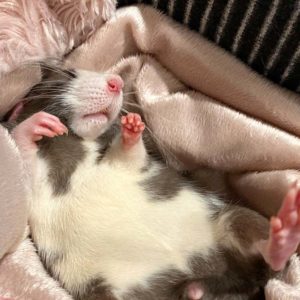 I think one of the things I love the most about rats is how absolutely unique each and every one of you are. Until someone has had a rat, I don't think people can fully comprehend how individual and utterly intricate your personalities are.
Just to give a few examples among you all, I've had:
• The comedians that continually bring me laughter.
• The lovebugs that want nightly cuddles on the couch.
• The skittish or elderly ones that reluctantly need extra time and care but give me a sense of purpose.
• The independent, fearless ones that never need me, yet choose me anyway.
• The naughty ones that somehow manage to make misbehavior rather endearing.
• The heart rats — the soulmates — that form a kind of connection with you that can't be explained in mere words.
A Million Reasons To Love A Rat
It could be all the larger-than-life personalities, your incredible intelligence, your adaptability, or the strong bonds we have formed that give me the connection I feel toward you. But at the heart of it all, I don't think there is just ONE reason I'm a diehard, never-ending, loyal-to-the-end, lover of rats. Instead, I'm this way because, well, there's absolutely no reasonable conclusion not to be! There's just a kinship that exists between us that cannot be broken.
Ultimately, I think what makes you all so unbelievably amazing, is that so much grandness is somehow encased into such tiny packages. It almost seems impossible that something so small, and with such little time here on earth, could leave such an enormous impact. Yet, that's exactly what a rat does!
To all my loves, my boos, my baby ratones, thank you for all that you've given me over the years. You will forever be my favorite!
— Your mom
Since 1995 I have loved and been loved by:
(Listed in order as they came into my life. Some were adopted in pairs or groups and the ones in bold are my current living rats)
Rory (Borealis)
Dover Cliffs
Wallacen Gromit
Dublin Grove
Opus Falls
Trespassers William
Castor & Pollux
Delphiniums Blue, Sorren, & Cecil (aka the Dumbo Brothers)
Ari & Finn
Thaddeus & Gilmore (aka The Thaddemores)
Piper, Phoebe & Paige (Aka the Power of Three)
Granger & Potter
Jules & Alabama
Brockton, Omni, & Coronado
Dakota
Goose & Maverick
Jing Jang, Lurm Nurm, Archer, & Wolfgang
Korben Dallas & Leeloo
Tru & Echo
Sirius Black
Sterling & Draper
Topher
Pi & Cinder
Winchester, Castiel, & Crowley
Tulip, Preacher, Cassidy, & Custer
Paddington, Camden, Regent, & Gatwick
Brinley, Moffett, & Kelton