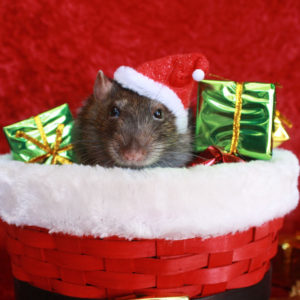 Another holiday season is upon us. If you're like me, you haven't even started shopping for gifts yet. Every year I tell myself I'm going to start sooner — and every year I find myself still scrambling for ideas at zero hour. Perhaps you've decided to add the rats to your list of recipients as well but are now stressed over present ideas. Well don't fret — maybe I can take at least one thing off your plate this year!
Giving gifts to our pets is a lot like throwing a birthday party for a 1-year-old; it's really more for us rather than the child (or rat in this case). They have no understanding of celebrations or gifts, yet we still find value in sharing our special events with them. It doesn't have to break the bank either, so don't let budget constraints concern you. In fact, I'll even provide some options that are free. I can't tell you how annoying I find reading "budget friendly" gift guides, only to discover that nothing is in my personal budget.
Higher-Priced Items
Cages
If your rats' cage is too small for an ever-growing mischief or is old and in need of replacement, the holidays might be the perfect time to make this investment. An appropriately sized cage is not only needed, but it's a gift that keeps on giving for years to come.
If you don't need a full-sized cage, perhaps a travel cage for road trips or a carrier for visits to the vet will do. Your rats might not consider this a "gift" exactly, but if you fill it with snacks, they won't care.
Outside The Cage
Do your rats have a safe, out-of-cage environment? If not, what about building them a play area and stocking it full of toys and supplies?
Just search online for "rat play area," and you'll be amazed at all the creative ways people have put theirs together. I saw one that used a kiddie pool as a base, with a smaller cage left open set down inside it, and they filled the rest with climbing objects. I also found one where someone rigged up a child's playpen with various levels and filled it with toys and things to climb. They also smartly reinforced the sides with bars like a cage has. A playpen for humans, or even ones meant for small animals can be easily chewed through or scaled by your more adventurous rats, so keep this in mind. Also, any play area setup that is on the ground or is easy for rats to get out of should be placed in a rat-proofed room to ensure their safety.
Inside The Cage
If you'd rather deck out the inside of their cage instead, what about a set of new cage liners? There are many hammock makers on social media or Etsy that sell perfectly sized fleece liners to fit around pans, floor levels, and ramps for different brands of cages. So far, I've seen ones for the Midwest cages, aka Critter Nation, and different models of Martin's Cages.
Liners probably aren't an everyday purchase for many people, so the gifting-giving season is the perfect excuse to splurge! Plus, they usually come in assorted colors and fun prints to suit almost anyone's taste. Your rats might not appreciate fancy liners the way you will, but they will love putting their own "mark" on them!
Mid-Range Priced Items
Cage Supplies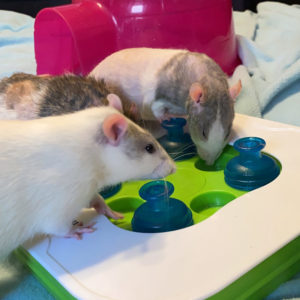 Basic cage supplies are hammocks, igloos, space pods, litter boxes, climbing objects, food dishes, and water bottles. The holidays can be your pretext to replace any of your older items with new ones or provide your rats with anything they are lacking. Supplies don't all need to be specifically made for rats either. Many cool cage items made for birds work great in a rat's cage as well, including ropes, ladders, and perches that attach to the side of the cage.
Toys
What about something to keep your rat entertained?
Some good options for the rat that likes to run, an 11 or 12-inch Wodent-Wheel or the 12-inch Silent Spinner are good options. Or maybe your rats will just nap in them like mine do! Whatever wheel you get, make sure it's large enough and has a solid running surface to avoid toes, tails or backs getting hurt.
A treat foraging toy or puzzle toy make a great gift for busy little thinkers that are good at solving problems.
You can also get creative with products found at home improvement stores. For instance, large PVC pipes, which are normally used for plumbing and irrigation, make great tubes for rats to run through.
For Cuddling
Since rats are avid chewers, it's likely yours need some new hammocks. You may also consider getting a bonding pouch, bag, or scarf.
Places like Etsy, Facebook, and Instagram are all great resources to find handmade rat beds and bonding pouches made by other rat owners. They often offer varied styles and prints to choose from, too. Browse around to find something that fits your taste. Buying your presents from people like this not only offers a cozy, warm bed for your cuties this winter, but you support a small business owner during one of the busiest shopping seasons of the year.
Subscription Box
If you want to combine all these ideas into one, consider ordering a subscription box geared right to your rats. These are reoccurring orders mailed to your house that allow you to gift your rats all year long. Plus, you get to try different rat-related products. The box I get usually includes a hammock, an adorable hut, a chew toy or cage supply, and a tasty snack.
A few different businesses specialize in rat boxes, two of which I've personally tried and enjoyed (RatPak and The Ratty Box). Spend some time searching online and reading reviews to find a favorite of your own.
Inexpensive Or Free
If your budget is tight this year, try one or more of these inexpensive and free gift ideas for your rats!
Kids' Toys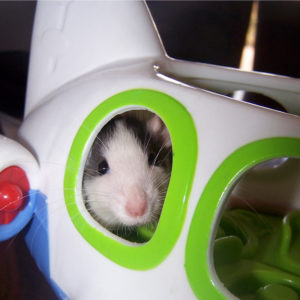 A cheap cage toy that young rats often enjoy are those plastic chain links for babies. Just hang it across the cage for your rats to climb.
Check out thrift stores for used Fisher-Price Little People vehicles and play sets. When my son outgrew his, our rats enjoyed climbing on them and exploring the different doors and passthroughs.
Chew Toys
For obsessive chewers, consider a textured chew toy. They are usually made of wood or different woven fibers like rattan or corn husks. Some rats also like lava stones.
Food foraging toys made for birds, cats, or small animals come in different styles and materials and are great for mental enrichment.
Food
One gift that your rat will absolutely appreciate is food! No matter what else you give them, a tasty snack or nutritious food will absolutely buy their love. You can either buy something made for rats or make something yourself. For different food ideas check out my article from last year or try Lafeber's Rascally Rat Nutri-Berries.
Handmade Gifts
If you're a crafty sort of person and enjoy making things, what about a handmade gift using cardboard?
Every Christmas I make a treat tube that doubles as an enrichment activity for my rats.
Or for more elaborate ideas and inspiration, spend some time searching online for "DIY cardboard rat toys." You will find endless options! This is one way to keep gifts super cheap and possibly even free. Not to mention that your rats will LOVE destroying them!
Free
Rats in general are easy to please. Frankly, they'd be happy with a pile of paper towel or toilet paper tubes to rip apart. Even handing them a box of tissues will lend them hours of stashing and shredding fun.
The Gift Of You
Whether you give your rats one large item, a small token, or a bag full of goodies, make sure to also gift them plenty of YOUR time. There is no greater gift to a rat than that of feeling safe, well cared for, and loved. The more time you spend with them, the more trusting they are. And the more trusting they are, the more time they want with their humans. So, turn on some festive music, grab your favorite warm beverage, and hunker down for some good ole cuddle-time with your precious rattie kids.