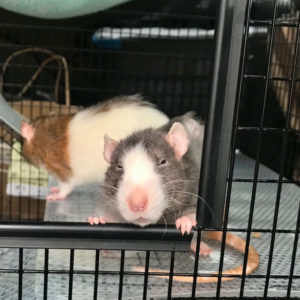 Did you know that there's a National Pet Fire Safety Day? Until recently, neither did I. It has taken place every year on July 15 since 2009 and was started by the American Kennel Club (AKC) and ADT Security Services, which later partnered with the National Volunteer Fire Council. National Pet Fire Safety Day educates pet owners about protecting their pets and homes from fires. I have to admit, I've never actually taken the time to set up a fire plan with my family, but I think it's time that I do. It's actually good to consider rat safety during any disaster or emergency.
Know The Common Disasters In Your Area
Natural disasters are rare where I live. The only major emergency we've gone through was when our air conditioner broke in the dead of summer. Summers in southern Arizona are blistering hot. The temperature can rapidly climb in a home without adequate cooling, making it unhabitable for pets and humans. We've been lucky in that evacuation has never taken us far from home or lasted more than a couple of days. And we've always had enough time to gather supplies and get the rats transferred to a travel cage before escaping to a family member's house as we wait for the air conditioner to be fixed.
A broken air conditioner is a major problem in desert heat, but natural disasters create a much larger disruption to life, especially if an evacuation is required. The chaos involved makes it difficult to think straight — and adding pets to the equation creates a whole new level of stress. This is why experts advise creating a plan before disaster strikes, practicing it, learning evacuation routes, and putting together a go bag.
Keep Pet Rats Safe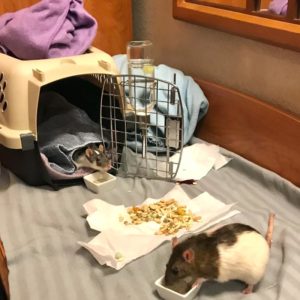 Unfortunately for pet rat owners, most of the pet safety guidance available concerns dogs and cats. So, I've researched and compiled extra strategies geared more toward rat owners.
Many situations can lead to potential evacuation, including severe storms, hurricanes, earthquakes, tornadoes, floods, tsunamis, and forest fires. Learn which are most likely to happen in your area and how often they occur. Also, know the major routes out of your neighborhood should evacuation be necessary.
Regardless of the emergency, though, if it's dangerous for you, it's dangerous for your pets. Unless your life is in immediate peril, it's imperative that you take your rats and other pets with you during an evacuation. You may not get the chance to come back for them.
Plan For Shelter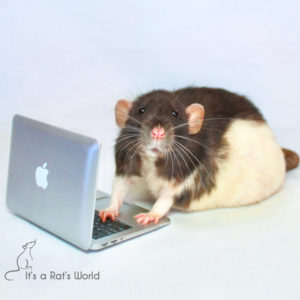 Evacuating with pets in tow automatically adds complications, specifically when it comes to finding shelter, and especially if you have rats. So, take the time NOW to plan for shelter.
For non-citywide emergencies, discuss with nearby friends or family about housing your rats. My mother-in-law, who is afraid of rats, has been kind enough to take mine in every time our air conditioner has died. They just need to stay in their cage, in a room she's not in.
For widespread evacuations, the CDC recommends checking the website of your local office of emergency management to verify whether there are shelters in your area that take in people with their pets. I do not know if that means only cats and dogs, however, so look into their rules on exotic pets. Also contact any of the surrounding animal shelters to see if they board rats during an emergency.
You can also call exotic veterinary clinics in your city and surrounding cities to see if they turn into temporary shelters during an evacuation and whether that includes rats.
Pet-friendly hotels are also an option. But be sure to ask if rats are accepted. For hotels that don't typically allow pets, you could ask whether a "no pet" policy is waived during emergencies. The Humane Society also has a list of websites to help locate pet-friendly hotels.
Prepare For Emergencies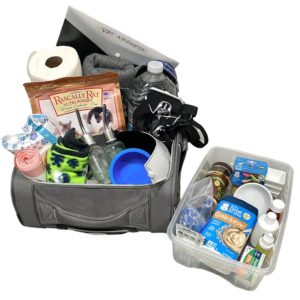 Time is of the essence during an evacuation. If you're in an area prone to natural disasters, I highly encourage you to put together an emergency "rat go bag" and a "rat medical kit" and store them in an easily accessible place in the house. This removes any frantic guesswork if an emergency arises, so that all your focus can be on getting out quickly. Experts usually suggest packing for at least two weeks.
First step? Get a well-secured, wire travel cage that is small enough to carry and fit in your car, but also large enough for your rats to live in temporarily. Depending on how many rats you have and whether they all get along or not, you may need several travel cages. Attach something like a metal ID tag or a chew-proof luggage tag to the cage with your name, contact information, and how many rats you have, just in case you are separated. Cover any exposed ink with clear tape to avoid smearing or bleeding from water.
Your Go-Bag Of Pet Supplies For Rat Safety
An item with handles like a duffle bag or spare luggage works best to store the go-bag supplies and the rat medical kit, but you can also use a box or plastic storage container.
A couple water bottles (include their cage attachments)
Food dishes
A bag of bedding (enough for at least two weeks), rat blankets, and rags
A hammock, igloo, or space pod (scared rats need a place to hide)
A towel or blanket to cover the cage (can help with frightened rats and sun protection)
A waterproof container of dry rat food (enough for at least two weeks)
1 to 2 gallons of filtered water
Emergency medicine kit (see list below)
Paper towels and wet wipes for cleanups
Trash bags for waste
Bonding pouches or pillowcases for holding scared rats
A printout with a photo of each rat and their name in a waterproof sleeve (keep this updated)
Your Rat Medical Kit For Rat Safety
A medical kit is vital for sick or elderly rats on medication, and it should include items for unknown emergencies. Plus, in the event your rats are sheltered without you, it provides a caregiver with all the essentials.
A plastic (waterproof) sheet protector for the following papers:

A printout with a photo of each rat, their name, health records, or any pertinent health information
A list of medications your rats are taking, along with instructions for dispensing them
The name and phone number of your veterinarian
A list of other rat-savvy veterinary clinics in your city and surrounding cities

Syringes for oral meds
Small dishes if meds need to be mixed in food
Non-perishable foods like jarred baby food or dry baby cereal for mixing meds
Medications that don't require refrigeration*
Topical ointment for bites and cuts (discuss with your vet)
Baby aspirin for pain (consult vet for dosages)
*If refrigerated meds are necessary, include an insulated lunch bag or portable ice chest with your medical kit and then grab ice packs or frozen water bottles and the medication right before leaving the house.
Extra tip: If you're evacuating during hot months and your rat is at risk for heatstroke, wet the extra rags in the go bag with water to help keep the rats cool.
Rat Safety During House Fires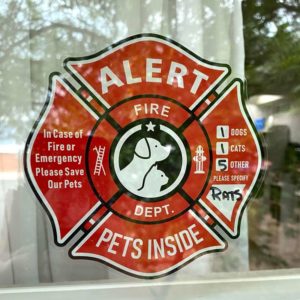 When it comes to house fires, it's advised to create an escape plan that includes your pets and practice it regularly. In addition, the Red Cross recommends installing smoke alarms "…on every level of your home, inside bedrooms and outside sleeping areas." They also stress checking your smoke alarms and carbon monoxide detectors monthly and to change the batteries when needed.
The American Kennel Club mentions use of monitored smoke detectors connected to a home security system that contacts emergency dispatchers when you're not home. Smart smoke detectors are also available that send an alert to your smartphone using an app. I honestly didn't know this was a thing until I was researching this topic. I think it's worth taking some extra time to learn more about these types of products and whether they are affordable for your house
Also, consider placing a pet alert window sticker or cling to your front door or window. This immediately alerts rescue workers that there are pets in your home. You should list the type of animals, how many of each, and their names (if there's room). Make sure to update it if there are any changes. Rattie Ratz Rescue also suggests writing "evacuated" across the sticker if you end up leaving the house with your pets. This way rescuers know everyone got out safely.
For more on fire safety planning, visit the National Fire Protection Association.
Beware These Dangers During Evacuation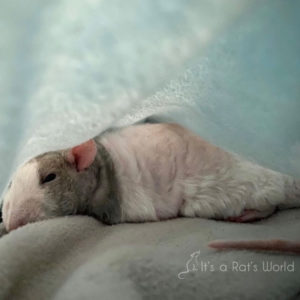 Rat illness and parasites are often species-specific, but be aware during evacuation that exposure to bad weather, wild animals, other pets, stagnant water, and overly crowded areas can still pose a threat their health. Try to keep in touch with a veterinarian if possible.
During an emergency, your rats are likely to feel anxious and might even pick up on your anxiety. Use a soothing voice and any familiar phrases that calm them. Keep in mind that animals can be unpredictable in times of stress, so avoid taking them out of the cage if there's too much commotion, other pets are nearby, anyone around you is afraid of rats, or if their behavior is "off" due to fear. Just continue calmly reassuring your rats until they are feeling more relaxed. And never leave them unattended!