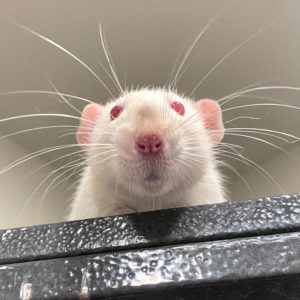 I love spoiling my rats and have spent almost three decades pampering mine like royalty. But there is one area where I feel like I haven't gone above and beyond enough — their cage.
Don't get me wrong, my rats' cage is huge. It's also fully stocked with all the essentials. It's well-ventilated, kept clean, and provides a safe environment. But would it win an award for the coolest-looking rat cage? Probably not.
I'm a creative person; my second day job is as an artist. Yet when it comes to decorating the rats' cage, it's like I hit a wall. I didn't realize just how much I lacked in this area though, until I started seeing photos and videos online of other people's cages and rat cage ideas.
Determine Your Cage Goals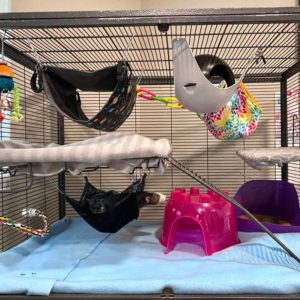 Some people color coordinate rat accessories, liners, and hammocks so everything matches. I love the idea of having a totally color-coordinated cage, but that would mean replacing a large chunk of supplies that don't actually need replacing … yet.
I'm really drawn to cages that double as an obstacle course and provide mental enrichment. So, if I buy anything new, I want it to have a purpose. To help me get started, I reached out to someone whose rat cage setups and rat cage ideas never cease to impress me.
Advice On Rat Cage Design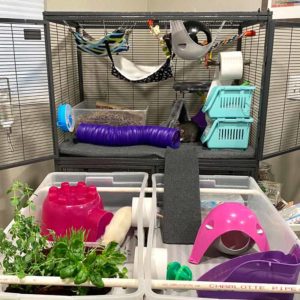 Meet Emi of the Emiology YouTube channel! Emi has a bachelor's degree in zoology and has been delighting rat owners with her entertaining and educational YouTube videos since 2015. She has already garnered 111,000 subscribers on her channel, along with over 20,000 followers on her emiologyofficial Instagram account. I have been following her for a long time on Instagram and am always wowed by the innovative ideas she has for keeping rats busy and moving around in their cage.
Emi was kind enough to do a virtual cage consult of sorts for this article. I sent her photos and explained that my DCN (Double Critter Nation) cage was set up to separate my two groups of rats: the Seniors and the Young Boys. They can't share the rat play area at the same time, so I want to make their sections of the cage more entertaining for them. Although I can't keep up with or immediately implement something as elaborate as she has for her own rats, I asked what rat cage ideas I should start with.
Make The Rat Cage Interactive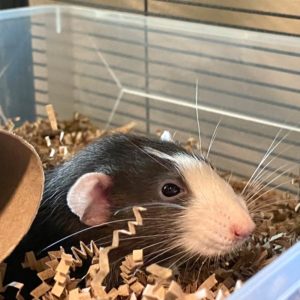 Why is it important to provide activity for your rats? Emi sums it up perfectly, "Rats are highly intelligent animals, and the majority of their day and life is spent in the cage, so it needs to be an interactive environment. They're also a crepuscular species, so some of their waking hours will either be when you're asleep or not home, and making sure they have plenty of things to keep them occupied to prevent any unwanted behaviours is important."
Emi says that what her rats love the most are anything they can "mess up" and "shred to pieces" or eat. For this reason, her first suggestion for my younger boys was to either create a deeper base in the main section of their cage or use a large tub and fill it with a deep layer of an absorbent, rat-safe bedding. With that done, scatter some of their food across the deep bedding. Or provide an area with a digging box using a coconut fiber substrate or a shredded paper bedding. This encourages digging and foraging behaviors which, she says, keeps her rats busy for hours.
Introduce Digging Boxes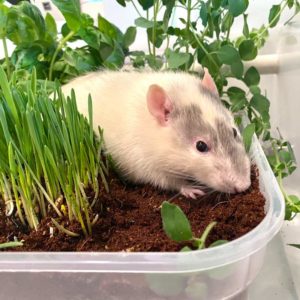 Due to time and money, I opted to start with a smaller storage bin first and then maybe graduate to a deeper base that my husband can custom build later. I had actually already filled the entire bottom of a DCN with two huge digging boxes for my rescue pack rat, Brisby. She literally spends hours in them daily and recently relocated her midden/nest to one.
I chose a dust-free, shredded paper for the bin, which the boys seem to love rummaging through. I'm going to need to find a cheaper option if I want to keep this as part of their cage. This paper costs too much to change out regularly.
Just for fun, I also made a tiny digging box with a coconut fiber substrate and living plants for the play area. I almost put it in the cage, but I was worried about the mess it would create. And boy was I right! In the future I make this deeper to help contain the mess better, but it is a definite hit with the rats. Emi has some amazing ideas for these as well, including a planted dig box and a garden dig box with a pool.
Crank Up The Fun With Foraging Toys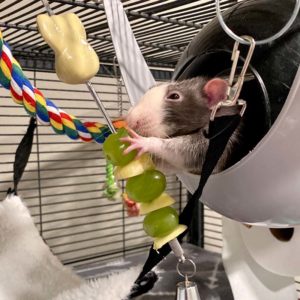 Emi's second suggestion was to provide several different types of foraging toys, like treat balls for snacks or hanging kebob sticks for fruits and veggies. You can usually find these in the bird or cat section of pet stores or online shops. I had several already, but I'm bad at remembering to use them.
Emi specifically brought up a foraging wheel for birds that attaches to the side of the cage to put the rats' main diet in. This definitely piqued my interest. I normally use a crock dish that I attach to their cage door, because it forces my rats to stand up and stretch every time they want to eat something.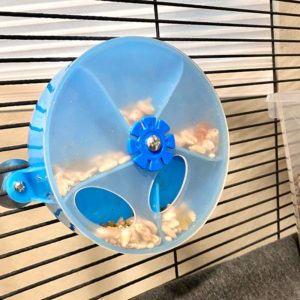 But after watching Emi's video discussing the foraging wheel, I noticed that it not only encourages movement, but it also requires problem solving. This could prevent binge eating, while also providing mental stimulation. I immediately ordered one from Amazon. So far I like it, but getting the food in it is a bit tricky once it's attached to the cage.
Toilet Paper In The Rat Cage? You Bet!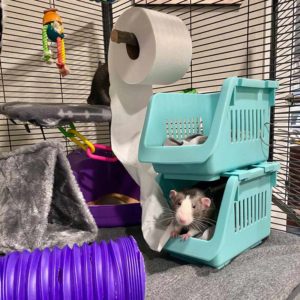 Lastly, Emi recommended a toilet paper holder. Toilet paper you say? Converting a wooden bird perch, which attaches to the bars, into a toilet paper holder teaches your rats the joy of TP-ing their cage. I don't know if Emi came up with this idea herself, but it's brilliant! My boys have already happily filled their Space Pod with their new "nesting" material.
Create Levels To Encourage Exercise
As an extra step to encourage more exercise, I removed the smaller shelf in the cage and instead created different levels with hammocks, ropes, a space pod, and a bird cage shelf that I already used. Now my lazy bums are starting to act more like gymnasts!
Customize Sleep Setups For Your Rats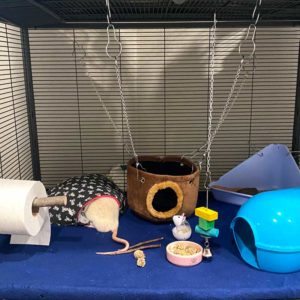 Unfortunately, two of my senior rats passed away before I could make any changes to their portion of the cage. My remaining senior now has hind leg degeneration, seriously affecting his mobility, so I had to reprioritize my goals and focus instead on accessibility over activity.
I removed the shelf and ramp for him as well so that everything is on one level. I dropped the water bottle lower and put in a very shallow bowl for food.
Elderly rats prefer sleep over play and activity, so I turned Camden's cage into a mecca of slumber. Because he likes to slither from one hiding place to another when he's on the couch with me, I decided to offer Camden three different styles of beds in the cage that he can shuffle between. I dropped a hammock all the way to the floor so he can get in and out easily. I also bought him a Savic igloo, which has an attached base, to replace his Space Pod (which he also can't climb into anymore). Many rats really like a smooth, cool surface to lay on and like a Space Pod, the Savic provides that.
It's not the most exciting set up, but he's long past the need for that now. Plus, he spends a lot of time out with me anyway.
Get Going With Your Rat Cage Ideas!
I still won't win an award for the coolest rat cage, but my reward is watching my younger rats' reaction to the changes and knowing I've provided them with new ways to keep busy.
If you want to get started, check out basic rat cage setup ideas by Emi for keeping rats active.