I enjoy almost every aspect of doing research. Although getting data is sometimes as frustrating as I've described in previous blogs, once we convince our birds that the tasks are fun, everything usually proceeds nicely. Of course, we sometimes over- or underestimate the birds' abilities, and thus realize that we haven't designed an experiment properly and have to go back to the "drawing board," but the human brain-storming needed is always a good learning experience for everyone involved. And when we've finished collecting data, sometimes as we are writing up our results, finding exactly the right words to describe a study is difficult; we have to revise paragraphs over and over.
Sometimes figuring out appropriate statistics takes more time that we would like, but, again, the finished project—a paper ready to be submitted for peer review—is always an exciting event. Sometimes those reviews aren't as positive as we would have hoped they would be, but we realize that the problem is usually that we are so familiar with the work that we haven't explained it clearly enough to readers who are naïve. We then have to spend more time rewriting and revising, but the final version is then one that all our colleagues can appreciate.
Creative Fundraising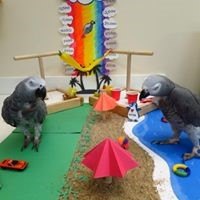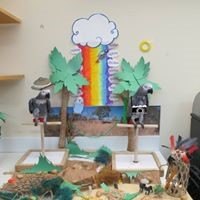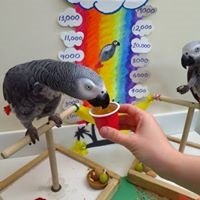 The one aspect of research that I truly do not enjoy, however, is fundraising. Unfortunately, doing research takes a lot of money, and thus fundraising is an absolute necessity. Whether we are
writing grant proposals to federal agencies (which now no longer have any significant money for research in animal behavior) or asking private donors for assistance, I find the process extremely stressful. But…the birds need to have their toys, apparati for experiments, and organic food;
students and lab managers need their salaries; bills for veterinarian services need to be paid, etc., etc.,…so we persist. And fundraising is a constant background activity: my students, lab managers and I are pretty much always trying to figure out novel ways of fundraising.
We have special events like our semi-annual major campaigns and try to come up with different themes each time. It isn't always easy, but for the most recent summer campaign my lab manager and students had a terrific idea to make the process at least a bit more entertaining for everyone involved…by very actively including the parrots. Of course, we always involve them to some extent: Every time we have a big fundraising event like the Sterner Family Challenge (where all donations are doubled up to $15K if we can raise a minimum of $10K within a certain time period), we always have some kind of special artwork to show our progress—like the thermometer memes that a lot of fundraisers use—and we take weekly pictures of the birds with those illustrations.
My students have been really inventive and those of you who follow us on Facebook, for example, have seen the results. All have been extremely cute, but did not actually immerse the birds in the scheme. The plan this time, however, was to design individual, really cool backdrops and props for some of the photo shoots, showing our birds in somewhat silly situations, with the idea that our donors would keep coming back to see the latest "scene"…and maybe be inspired to contribute a few more dollars.
So, at the time that I'm writing this piece, the birds have had two fictional outings: "a day at the beach" and "gone on safari." Some of the pictures are below. For the beach picture (left side), I'm not sure what they actually thought about the fake water (the sand was real, taken from one of their physical therapy exercises), but they definitely enjoyed having some extra juice as a treat in exchange for sitting for the photograph. The did seem more interested in the safari (by the way, we obviously photo-shopped the mini-camera and safari hat), particularly the fake water hole filled with toy animals—Griffin actually got off the perch and went to explore that bit of the site on his own.
Have to say that the collection of toy animals was not limited to those that would actually be seen in Africa, but then what's the fun of fantasy if you can't be totally innovative! By the time this blog is published, you will be able to see a few more such scenes on our Facebook and Tumblr pages. We even did a bunch of pictures related to movie themes. Meanwhile, have fun seeing how many relevant details you can spot in the pix!