LoraKim Joyner, DVM, MPVM, M.Div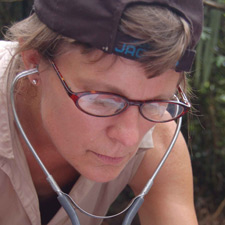 Birds have always called to LoraKim. Since an early age she always had birds in the home, out in the pigeon coop, or eating at the yard feeder. Her hope for avian flourishing led her to a BS in Avian Sciences and then later to a DVM where she specialized in birds. A later Masters in Preventive Veterinary Medicine emphasized avian research. Hearing birds call to her heart, she worked in other countries as a consultant in avian medicine and conservation, with an emphasis on parrot conservation. Her hopes for the birds led her to the Philippines, Panama, Costa Rica, Mexico, Dominican Republic, Puerto Rico, and Guatemala where she lived for several years.
Her work with birds has also included working as a Clinical Instructor and Research Assistant Professor at the Nondomestic Avian Clinic at the College of Veterinary Medicine, North Carolina State University. There she later served as the Community Advocate, where she taught ethics and grief management as well as assisted staff, faculty, and clients in dealing with grief and ethical issues. Seeing the need to address human well-being, LoraKim obtained a M.Div degree, was ordained a Unitarian Universalist minister, and became a Certified Trainer in Nonviolent Communication. She served in parish ministry for 10 years and now is a community minister emphasizing Multispecies Ministry and Nonviolent Communication.
She celebrates with joy her position at One Earth Conservation and Ministry where she can support birds and people around the world make life-giving connections. Currently she has projects in Belize, Guatemala, Nicaragua, and Honduras and consults with a number of other countries in Latin America. You can also follow her activities on Facebook.
Articles by LoraKim: