Chris Davis
Articles by Chris: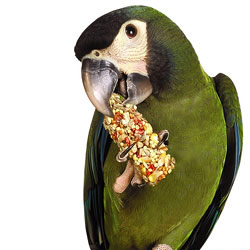 Fun With Food for Your Pet Bird
Food plays an essential role in the survival of every living creature. It can also be a source of great pleasure. Animal trainers, behaviorists, pet owners, and, yes, parents of small children, use food in a number of creative ways. Most people love giving their animals friends food treats.

A Magical Goose Chase In Munich
Nothing charms us as much as birds. They possess the power to profoundly alter our lives and, if we set our egos aside and see and honor them for who they are, they can forever change the very essence of who we are and of how we perceive other species around us.

Halloween Safety For Birds
Some frightening things can happen to our birds if we are not vigilant during Halloween festivities. But you can do a lot to prevent any problems by planning ahead.