Back in the early '70s, Atari released a simplistic but effective video game named Pong. Just two vertical bars on both sides of the screen and a floating ball moving its sprites from across 720 pixels of screen space. The ball was manipulated by a player (or two) in a competitive bid to earn the greatest number of points. Since that time, video gaming has become a billion-dollar industry that has spanned from the simple pong setup to the intricacies of the 4k screen that can create incredibly realistic gameplay. With the advent of smartphones and accompanying apps to keep them interesting, games have made the jump to lower resolutions but higher stakes small screens. Enter Adam Dhalla.
Birds Got Game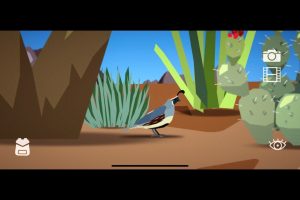 Adam Dhalla is a high school sophomore from Vancouver, British Columbia in Canada. In 2012, Adam Dhalla spotted a wild Snowy Owl and was intrigued enough to become a naturalist. Since then, Adam has become an avid and passionate wildlife photographer. His photos are stunning captures of many types of birds in the wild. But if that were all he did, he would be one of many hobbyists simply doing what he loves to do. And while his photos are excellent for enjoyable viewing, he has taken his love of birding to a newer level.
In April, Adam Dhalla released a phone game app called Find The Birds. Created in collaboration with Thought Generation, the video game explores the expanding art of birding – or bird watching – using real habitats and conservation issues to power the engine of the game. This educational experience uses details from the Cornell Lab of Ornithology to provide accurate and info-rich cards within the game. Traveling within the Saguaro National Park with an animated avatar, the birder wanders and discovers birds. As birds are uncovered, information about the bird including an audio portion of the bird's 'language' is presented to learning and developing young birders. This is what the hope is, that this mobile game – targeted towards 5–15-year-old players – can be a starting gate entry for a young generation.
The plan by both Adam Dhalla and Thought Generation is to continually add in new habitats where more new birds are introduced to the young and interested mind. To help with the development of Find The Birds, a GoFundMe account has been established to help fund the future progress of the game. Currently, this immersive game is free to download for both Android and Apple phones at their respective app stores.
At 12 years of age, young Adam Dhalla was the recipient of 2018 American Birding Association (ABA) Young Birder Of The Year award. Presented as an interactive contest, Adam Dhalla participated with flourish impressing the judges with his photos, journal entries, and assorted modules created for the contest. Today, Adam Dhalla has progressed immeasurably with his beautiful photography (viewable here at his Instagram account), and his continuing development of Find The Birds mobile game. You can better acquaint yourself with Adam at his website and help support the game progression. You can also watch a short video of the game.
Keep it up, Adam! A world of new birders depends on you.