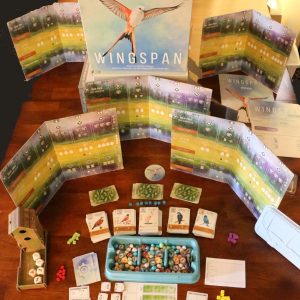 Birds are everywhere. Of course they are. Look up to the skies and see flocks of them on their way to a better place. They're in your yards and gardens, giving you heart-fluttering moments as you find a favorite that comes visiting. They're in books, artwork, jewelry, action photos, and movies. And the serious exotic bird enthusiast gets to personally interact with a beautiful parrot as an integral part of a family. Now you get an extra opportunity to expand and test your already incredible bird knowledge with a bird-centric board game. Check out Wingspan!
Wingspan is a board game that wants you to become an avid bird enthusiast (as if you're not already!) and strive to attract a wide, co-habiting array of birds to your wildlife preserve. Since it's a game, you are in competition with the other players in Wingspan, who are also trying to do the same — getting the birds to go to THEIR wildlife preserve and aviary instead of yours. The end goal is to gain the top number of accumulated points, acquired by shrewd playing skills. The typical length of a game is four competitive rounds, played in approximately an hour's worth of time.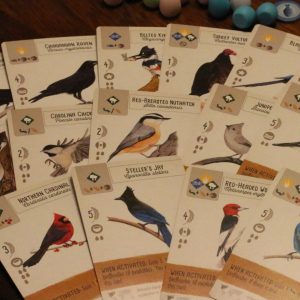 Birds Are In The Cards
Wingspan itself is a beautiful collection of 170 detailed cards of selected birds, 42 playable extra cards to assist you in your advancement, assorted games pieces like colorful bird eggs, food tokens, five painted wooden player dice and a bird house dice tower to help randomize the dice in play, five player mats, a goal mat, scorepads with two degrees of difficulty (front and back), and more.
Each of the cards portrays a bird in beautiful drawn artwork, with statistics, point values, and advantages listed. The game is played by drawing and discarding cards as you advance through the world as ornithologists, researchers, collectors, and bird-watchers. Correct and well-thought out use of food tokens helps to improve the chances of getting birds to become attracted to your aviary and preserve with the hope of higher numbers. You use the miniature egg pieces as an indication of eggs laid for your attracted birds.
More To Explore In Wingspan
Of course, the game play is much more complex than mere bird selection. You want them to choose your preserve. This write-up is intended as an alert to something that might appeal to the dedicated bird fan, especially those who are fans of an intricate and busy gaming environment. Explicit details of gameplay are for you to discover and to enjoy.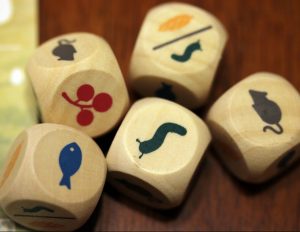 Since its release in March of 2019, sales have been above expectations. Currently, the game publisher is on its third run of Wingspan. Wingspan is a published game by Stonemaier Games. It was pitched to them by Elizabeth Hargrave, a "geeky" birding enthusiast who uses a strong system of evolving gameplay with accuracy drawn from the Cornell Lab of Ornithology's eBird databases as well as other intensive resources. There are available card updates for previous releases that add to and correct mistakes found.
Facebook has a burgeoning community of Wingspan players, over 5,000 enthusiasts of the game thus far. There, you can find help with gameplay, provide unique strategies, or otherwise communicate with a range of fans. If you're interested in Wingspan, go to its website for a clearer look, especially if you want a copy of the game for yourself. There's even a YouTube video of actual Wingspan gameplay.
It looks to be quite a game experience.