Flying with a Bird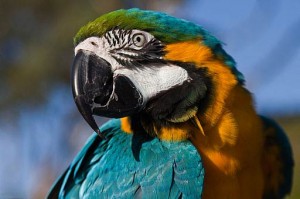 So you want to take a vacation?! Of course you do, and you want your best friend, your companion bird, to go along with you.
To Travel With Bird or to Travel Without?
The first decision to make is whether to take your bird with your, or not. Be honest with yourself and be upfront with the relatives, friends or the hotel where you are staying at your destination.
1)    Do you have time to care for your bird and provide him care and social time while on vacation?
2)    Most hotels don't allow animals to stay in rooms unattended. Can you spend every minute of your trip with your pet bird? If not, is there a local kennel or boarding facility where you can safely house your bird? Many major attractions have kennels, but call ahead to make sure they have pet-bird experience and that their facility can safely house a pet bird.
3)    If you're visiting friends or relatives, consider whether they might be allergic or afraid of birds. Will they welcome your pet along with you?
Those are major decisions. If you decide not to take your bird with you, look for in-home care or boarding for him during your trip.
Air Travel
One or two small birds can usually travel with you in the cabin of an aircraft, with the proper planning.
1)    Look up guidelines for the airline you will be flying. Restrictions include size of a carrier, number of birds per carrier (one or two), and requirements for a health certificate. Airlines may not accept animals for transport in certain weather conditions. Consider the time of year you are traveling and know the guidelines of the airline you will be travelling. Expect to pay $125 or more for each bird travelling with you. Check this comprehensive list of airline regulations.
2)    Look up guidelines for importing birds into the state to which you will be traveling. Most likely they will require a health certificate in order to bring your bird into the state. Washington state conveniently lists all state websites. Your avian veterinarian can provide you with one.
3)    Are you transporting a species that is illegal to own in the state to which you are flying? Be aware that if you are transporting a quaker parakeet and passing through a state where the bird is prohibited you should make prior arrangements to ensure that you follow the state law. For example, quaker parakeets are illegal to own in California, Georgia, Kansas, Kentucky, Hawaii, New Jersey, Pennsylvania, Tennessee and Wyoming. In Connecticut, quakers are legal to own, but you can't sell or breed them. New York and Virginia residents are allowed to own quakers, but they must register with the state.  Look up the rules for various states at the USDA website.
4)    If you have done your homework and have checked to make sure your pet bird is OK for airline travel, now you can move on to prepping your bird for the trip. Outfit your airline-approved carrier with a perch, your bird will appreciate it. Secure bowls to the side or door of the carrier with some food and some greens or an orange in lieu of water. Stack up several layers of newspaper on the bottom of the carrier, so you can keep discarding the top layer and provide your bird with a clean travel environment. Do not include toys in a carrier, which may harm your bird as the carrier is jostled.
5)    Label your carrier clearly with your pet bird's name and species, as well as with care instructions and your contact information in case the two of you become separated.
6)    Make your reservation ahead of time, alerting the airline to the fact that you want to travel with your pet. If your airline accepts pets, it will only accept a certain number in the passenger cabin.
7)    Either take a folding travel cage with you or make arrangements to borrow a cage at your destination. Do not expect your bird to stay in his travel carrier for the duration of your trip; he needs to be able to stretch his wings!
Bird-Friendly Hotels
If you will be staying with your bird in a hotel, check with the hotel to see what their rules are. Motel 6 has long had a policy of accommodating pets. Read their pet guidelines.
To find other hotels that will accept your pet, use a search engine to look for "pet friendly hotels" or "traveling with a parrot." You may also go to the main page of a chain of hotels you patronize and look up their rules.
There are more and more hotels which accept pets. This trend will continue if we are responsible pet owners and don't abuse this privilege. Be sure your pet will not harm any hotel property. Have plenty of towels, sheets, paper towels and bird perches with you so that your bird does not chew on any furniture or soil any bedding or flooring.
Hotels usually don't allow animals to be alone in rooms, or if they do accept it, the animal cannot be noisy or disruptive and must be contained in a cage or carrier. Respect the rules. Make arrangements with a local pet sitter, boarding kennel or avian veterinarian office to board your bird if you must spend large amounts of time away from a hotel room. Many major attractions do have boarding kennels, look that up and contact them before you leave home.
Providing For Your Bird
Be sure to carry a good supply your bird's brand of food and some water from home (or bottled water) when you travel with your bird. Do your best to keep its accommodations clean, its food and water refreshed, and to allow it some social time with you so that your bird has as much fun on your trip as you do.
Sources of Info:
To Find State Veterinarian for Destination:
http://agr.wa.gov/FoodAnimal/AnimalHealth/statevets.aspx
From: http://blog.birdsupplies.com/legalities-of-interstate-travel-with-pet-birds
Be aware that if you are transporting a quaker parakeet and passing through a state where the bird is prohibited you should make prior arrangements to ensure that you follow the state law.
http://www.peteducation.com/article.cfm?c=15+1794&aid=3190
http://www.officialpethotels.com