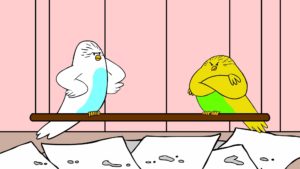 In the world of animation and print, many cartoons bring humor to our existence to help alleviate the doldrums and stress of a full day. No matter what kind of day you may be involved in, humor is an essential element to help balance the scales. Imagine the source of humor coming from a pair of parakeets and their owner, all coalescing into a look at life from many angles.
Greg Capin is the originator of a YouTube series simply called The Parakeets. Within the short episodes (each episode runs around one to two minutes in length), you are introduced to two funny parakeets that are christened Nubert the Nice and Kirby the Devious. With assigned names like those, you already know you're in for a strange but pleasant run of comedy that can only be understood by watching. Their owner is Greg.
Catch Up With Season Two
The Parakeets originally began life as a YouTube series in 2018 as a web-based series dreamed up, written, and voiced by Greg Capin. The first year consisted of 11 episodes that pitted mild-mannered Nubert against the hilariously alternate shades of Kirby, with Greg the owner stuck in the thick of it all. Within the first season, you hear Kirby pick on Nubert in many ways by song, anecdotes, lies, and just plain orneriness. I fully admit to many chuckles and warm laughs throughout the episodes, much as I'm sure you will experience and enjoy.
There is a collection of audio commentaries included in the first season that concludes with a ten-hour-long video of the two parakeets involved in a "'Shut up!,' 'No, YOU shut up!'" session. While I didn't watch the whole thing, I must admit to finding it funny. Check out the first season.
Somehow, the series didn't see the light of day again until just recently when Season 2 episodes of The Parakeets began release in December of 2021. Currently, five episodes are available and others appear to show up erratically. For now, the continued exploits of Nubert and Kirby are seen in available episodes. You can subscribe to the YouTube channel to be notified of next postings of an episode.
The first video takes up with Kirby placed in a separate cage to help avoid any physical altercation between the two opposed birds. And like with Season 1, you will pick right up and enjoy chuckle after chuckle as the two birds obsess and deride each other about Facebook likes, and a host of other antics that children would undertake.
You can catch up on Season Two and subscribe to the channel on YouTube.