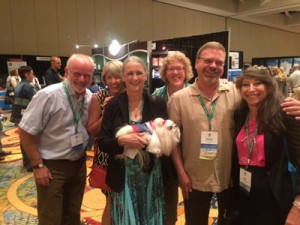 ExoticsCon: Flocking for Knowledge!
It was an exciting time in San Antonio — this was a historic event for those in Exotic Animal Medicine in the United States! "Building Exotics Excellence: One City One Conference" was held at the Marriot River Center August 29 to Sept 2, 2015. "ExoticsCon," as it has been called, brought together three of the veterinary organizations that provide care for exotics: the Association of Avian Veterinarians (AAV), Association of Exotic Mammal Veterinarians (AEMV) and the Association of Reptilian and Amphibian Veterinarians (ARAV). For years, many of us had tried to bring these three organizations together to have a conference where each was a player, and this was it!
ExoticsCon Makes History
Why was this important you ask? There are a number of reasons, but one is strength in numbers. Having more vets attending one conference allows for more vendors for a variety of things to purchase to enhance care at their practices. It also brings more vets — and hopefully better organization for possible needs in the future. One of these needs is political, since these were small groups and were just doing their own thing. At the same time, our U.S. government saw no need to bring them to the table, so to speak, with certain issues. I remember that clearly back in the '90s, when there was concern about foreign animal diseases entering into the U.S. through exotic pets. The Secretary of Agriculture brought together a group of individuals representing the livestock interests but I, as president of AAV, was the only non-livestock person there! It was at this time that I realized the importance of bringing these groups together. That would help to bring the correct policy for exotic animals regarding laws but also it might stimulate research money for them.
Right now, there is little funding for research in our parrots and other exotics in the U.S. There are sometimes small grants that veterinarians get for a limited project at some of the veterinary schools. But that lack of funding translates to limited research to advance the care of our birds.
But now here we were at a conference that had three of the exotic animal groups together!
Pre-conference Activities
The weekend started with pre-conference sessions on Saturday and Labs and Table topics on Sunday. There were two tracks sponsored by AAV. The first was "Systems….Systematically." The first session was designed for those entering avian medicine to learn practical information on basic avian medicine. This is very important as avian medicine is not taught or minimally taught at veterinary schools in the US.
The other factor is that avian medicine is currently evolving, and it is always good to learn how and what others are doing so that they can gain more information on how to do it better for the care of their patients. The other session was designed for those veterinarians who wanted to learn in more detail information that forms the basis of the testing for board certification through the American Board of Veterinary Practitioners. While those two sessions were going on all day, AEMV and ARAV also had sessions to attend.
On Sunday there were a number of roundtables, again sponsored by each of the three organizations and labs from basic to advanced for veterinarians or vet techs to attend and learn. These laboratories take a great deal of organization and are very helpful for those attending to get their feet wet in a "new" area for them- from learning abdominal surgery to new anesthesia techniques. The table topics were also very well attended and gave more time for discussion on the topic at hand.
Space "Vet"
Monday morning started with the keynote address and our location provided someone very special to give it: Dr. Rick Linnehan! His talk was titled "The Veterinary Profession: an Orbital Outlook from 300 Nautical Miles!" He is one of the first veterinarians in space and was one of the astronauts that fixed the Hubble telescope. Rick has gone on four space missions and remains an active US astronaut assigned to NASA's Johnson Space Center in Houston. He showed some impressive video clips of what it is like for an astronaut to be sitting in the seat of the rocket being hurled into space, what they do while up there — from a day to day living experience and the return to earth. Dr. Linehan discussed problems that the human body experiences when in space and what weightlessness does to you. It was all very fascinating particularly looking back at our frail planet Earth!
New Findings
Other talks followed that were of general interest to all avian veterinarians. Dr. Nico Shoemaker, from the Netherlands, described how and where a fluorescein dye can be found by nebulization into the respiratory tract of birds. This has important ramifications for understanding drug delivery using nebulization for all of our birds and nebulized particles goes farther into the respiratory tree than expected. Dr. Pat Redig from the Raptor Center at the University of Minnesota discussed "Falcons, Falconry and Waterfowl: A Novel Pathway for Influenza Viruses." There were some falcons that died following duck hunting, and it was confirmed that they died from avian influenza. It appears that many duck species can carry avian influenza but do not get sick from the disease like other species, including poultry. The next lecture, by Dr. Visser, was on the pharmacology of two new drugs for seizure control in African grey parrots. One of these, called keppra, was found to need to be dosed at 8-hour intervals. This will add to our understanding of seizure control.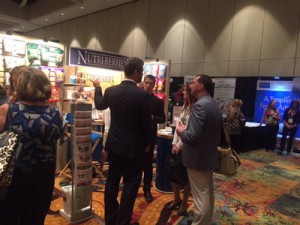 The Coveted Lafeber Award Bestowed
Following these morning talks, Dr. Ted Lafeber presented the Dr. TJ Lafeber Award in memory of his father for an avian veterinarian who has advanced the medicine and surgery of birds and has been an innovator in the field. There is a committee that reviews possible candidates and then a secret vote is taken. Dr. Tom Tully heads the committee and tallies the vote so only he knows the name in the envelope that is handed to Dr. Lafeber! This year's recipient is Dr. Pat Redig and his over 30 years of contributions were roundly appreciated with a standing ovation.
I will discuss some of the talks that were in multiple sessions over the next three days in some of the articles this fall. All in all, it was a great meeting to learn from others at the conference.